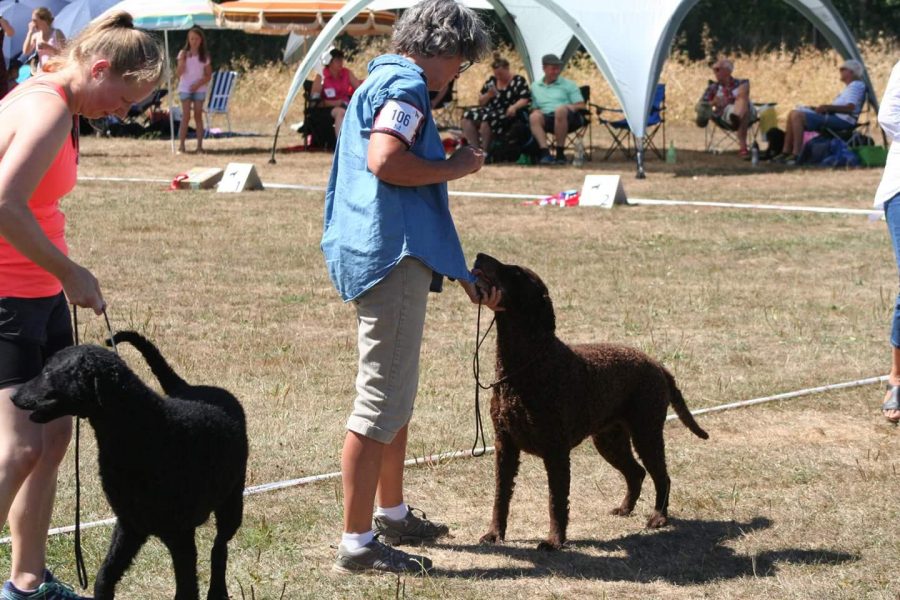 Curly World Seminar at Waltakke the Netherland has been an event I have been looking forward to for a long time. Loa and I traveled with Ingelise and Gatling as planned. Ellisiv joined from Norway with Kivi and two youngsters from the litter from 2017, Heti and Misha. Anja joined us too.
I think it has been a well planned week with lectures about Gene tests, Epilepsy, Gene diversity and other issues.
We sat up a little Nordic camp around Ingelises camper, the tent of Ellisivs and Anja, fenced by the net fence Ellisiv brought to Waltakke. It made a great kennel for our 5 curlies. They behaved rather great, I think.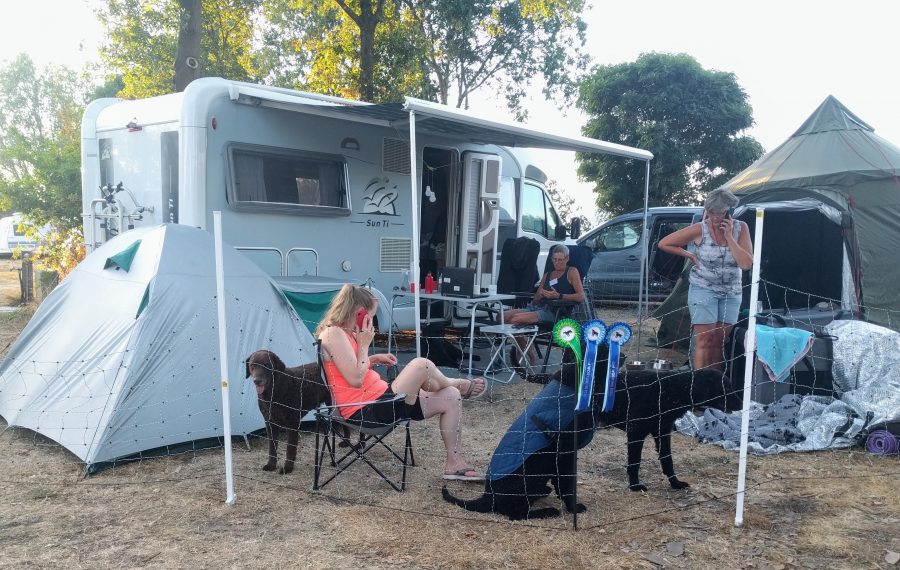 On Sunday morning there were lectures in Epilepsy, EIC, Auto Immune diseases. Most interesting I think was the lecture of the importance of diversity in breeding curlies.
The big challenge was the heat. On the day of the show it was up to 35 degrees and being in full sun, it was so hot for our curlies. Fortunately, there was an outdoor shower for the dogs and it was necessary to use every second hour. Loa was lying in her cage with silver shade carpet over the cage and a cooling blanket to help her to be comfortable. It sure worked out ?
During the evening many curly friends came to have a chat about our beloved curlies, it was so nice to meet in person, many of us only know each other from facebook.
In the showring The British judge Elaine Robertsen liked Loa. She was second best in the working class bitches. I was really happy with that result.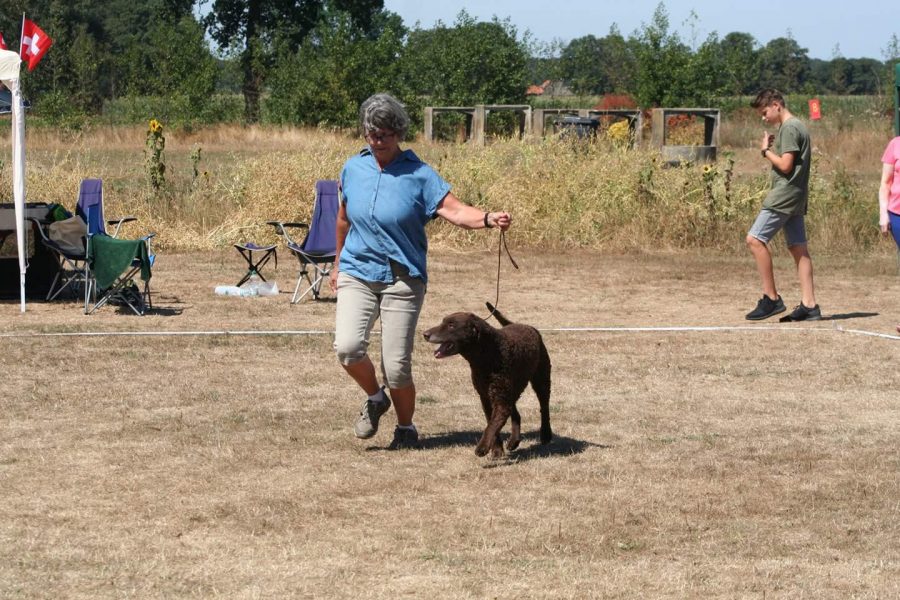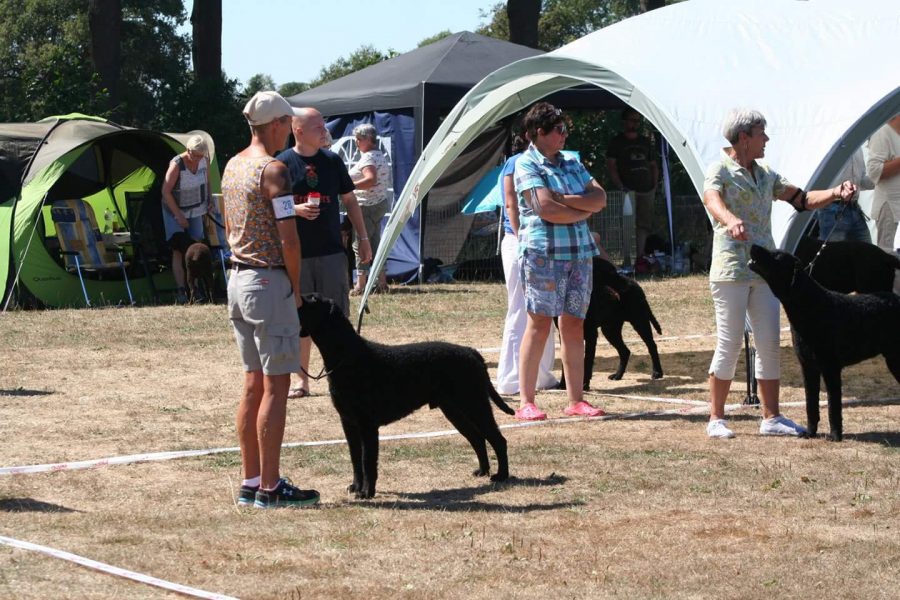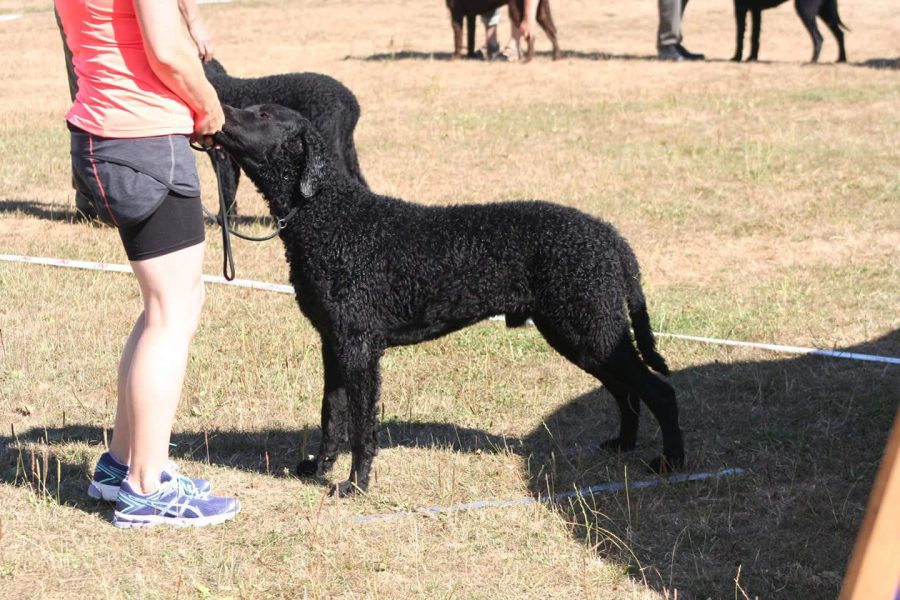 On Tuesday we heard about the country presentations. I think it is a great opportunity to hear what has happened since we last had a CWS.
The Dutch curly comity changed the time of the obedience test and rally workshop, which Ingelise and I gave to the evening because of the heat, at it was a great decision. Loa started in program 1 FCI for the first time– and won. I have not done a lot of homework, only the change of position have I been working on
First exercise was a sit in a group for a minute.
Then we had an individual heelwork without a lease, walk and fast.
Stand while heeling
Sit down while heeling
Retrieval of a dumble.
Change position, lie down, sit, lie down, sit from a distance from 5 meters.
Send to a square and lye down from 8 meters.
Jumping a fence.
Recall.
It was hard for a rally O freak like me not to move my hands, talk to her, use body language – but I tried really hard ?. Luckily, I could praise her after some of the tests – not by treat, but by letting her jump to hands, while clapping them. That worked very well.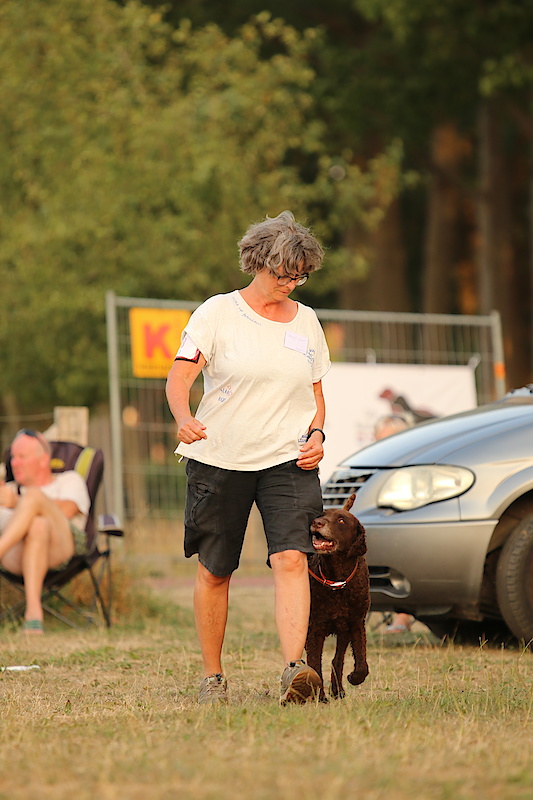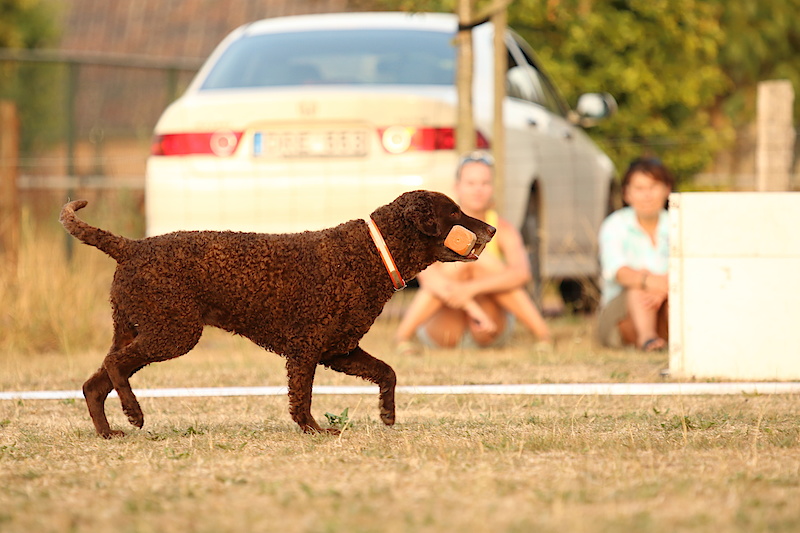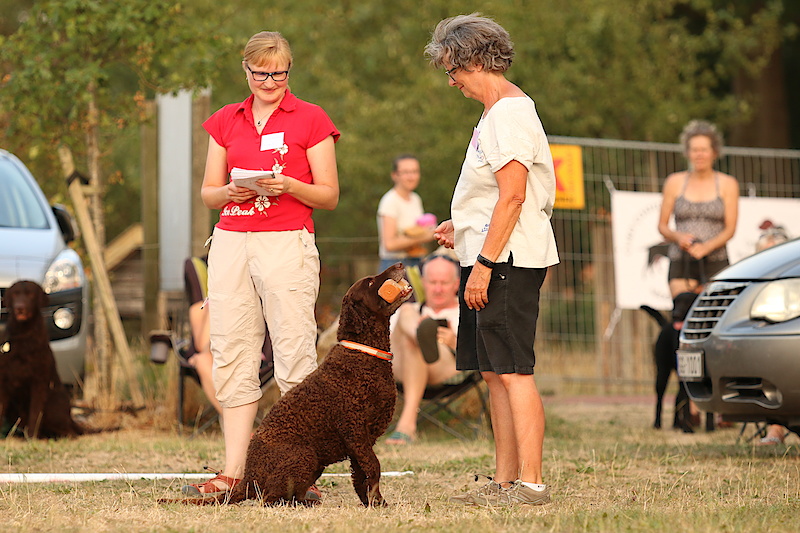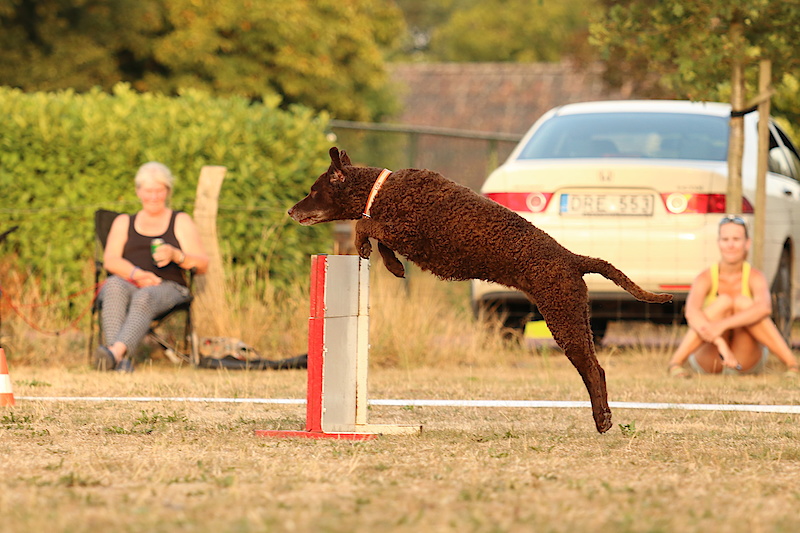 Ingelise and I rushed over to the football field, where our rally obedience workshop was. Due to the heat some of the participants didn´t show up, which I totally understood, because most of us should participate in a working test the following morning. Fortunately for Loa and Gatling, Anja took them for our camp to rest, after they had been demo dogs for the rally lane. Ingelise and I had prepared three lanes , two demonstrating flow exercises and one with stationary exercises. We used some of the signs from experienced and experts' class. The curlies attended and their people did a good job, I think.
Wednesday at nine o`clock sharp the parole was at the Waltakke. An old tradition the hunters blowing different hunting signals started the parole. In Denmark all the blood tracking tests starts that way, I have tried to play on the horn the hunters use, and I know, it is not an easy instrument. This group were really good.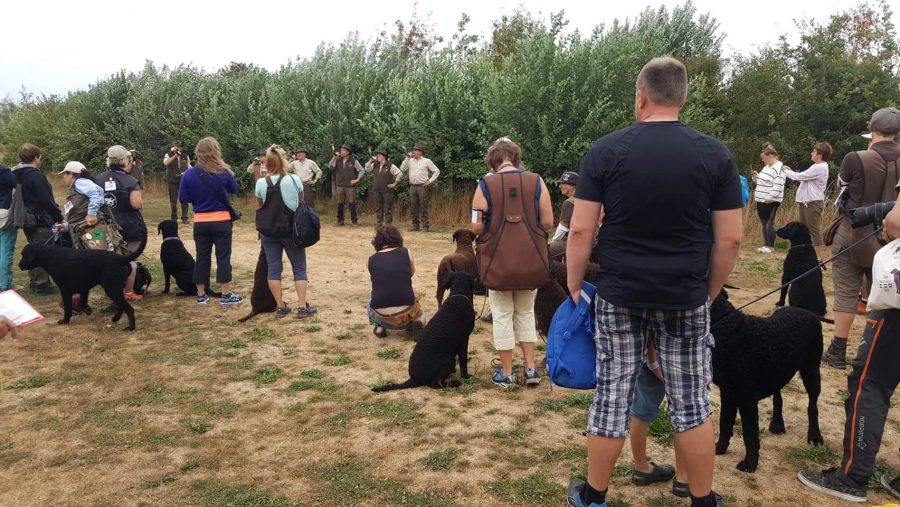 We were briefed about the 4 posts (two of them being double posts) and then we were ready. It was so specially to see 55 curlies on a working test!. I don´t think that so many curlies have been on the same test before.
Loa and I started at post 4. I was in a group of really nice curly owners (aren´t all?) and we shared some experience and funny curly stories during waiting time.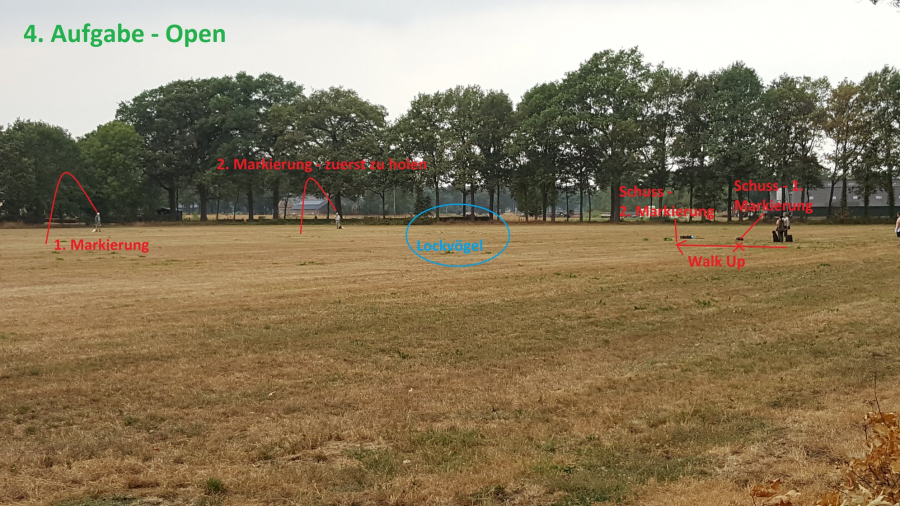 post 4 Open class, which Loa was entered in, had a rather long mark on short grass in a grass field, but what disturbed many curlies (Loa included) was that in direction of the mark, but at a shorter distance, a lot of decoy doves was placed. Some on a carrousel, some just sitting there. Loa stopped and nosed the doves. I gave her a stop signal with my flute and made her go further on. After a little while she found the dummy. On the way back, another shut was fired and a second dummy was thrown. She marked it very well, and retrieved it rather quickly. The judge gave her 14 points.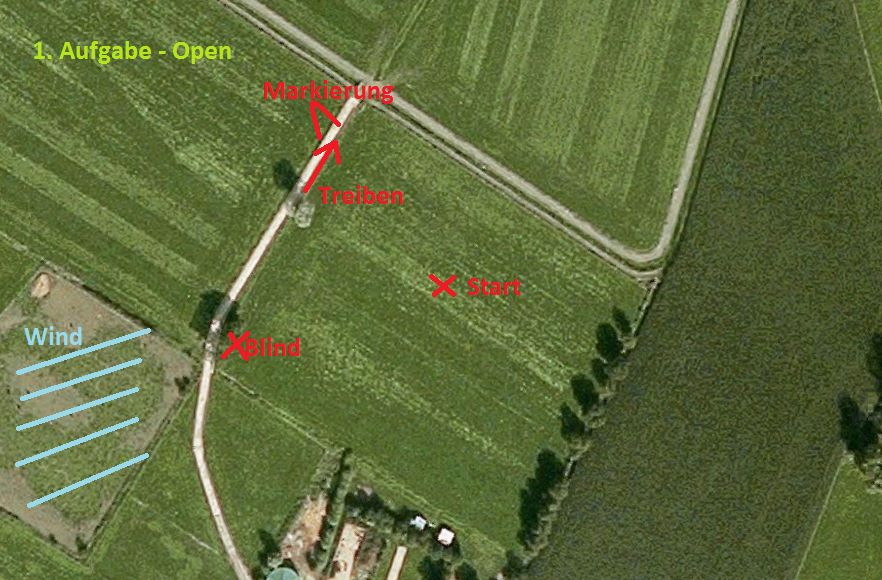 We went to post 1. A blind for open class, but first a mark. The shooter was also making noise (clapping hands – hep hepping- ) walking 20 meters and then the shut came. It was a rather low bird ?. Loa nailed it, but she struggled with the blind, maybe because it was so near the spec takers. I had to push her with "further out" and finally she got it. 12 points.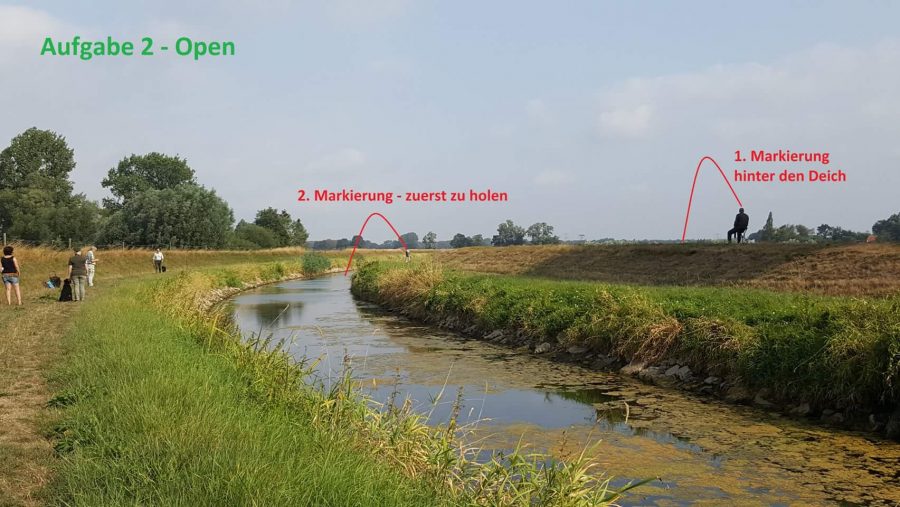 My group walked up to post 2. A double mark in the canal a few hundred meters from Waltakke .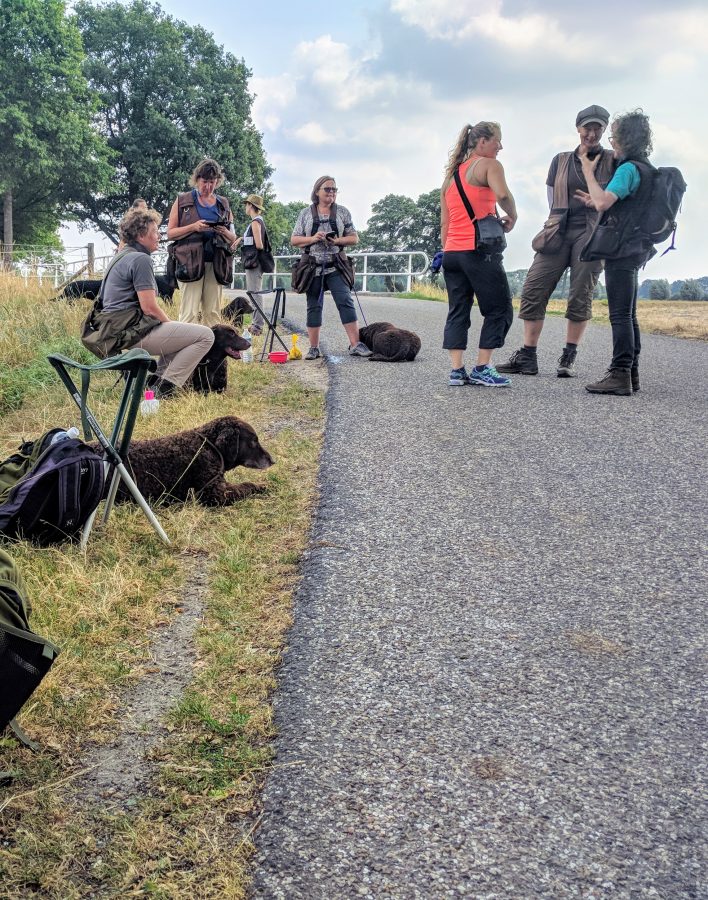 I had brought lots of icing water for both of us and had showered her in cold water before the test, but I guess, it was a relief for the dogs to do watermarks.
First a mark on the uppersite of the bank was thrown on the upper bank, then a really long mark in the canal. The mark in the canal was supposed to be the first retrieval. Due to the long summer without rain, the banks were 3 – 4 meters in hight. The last meter to the water was covered by rocks and concretes. Not what we are used to work in. Loa worked at a really good speed on the long watermark, had a little trouble to see the dummy in the canal. Once she noticed it, she made a fast retrieval.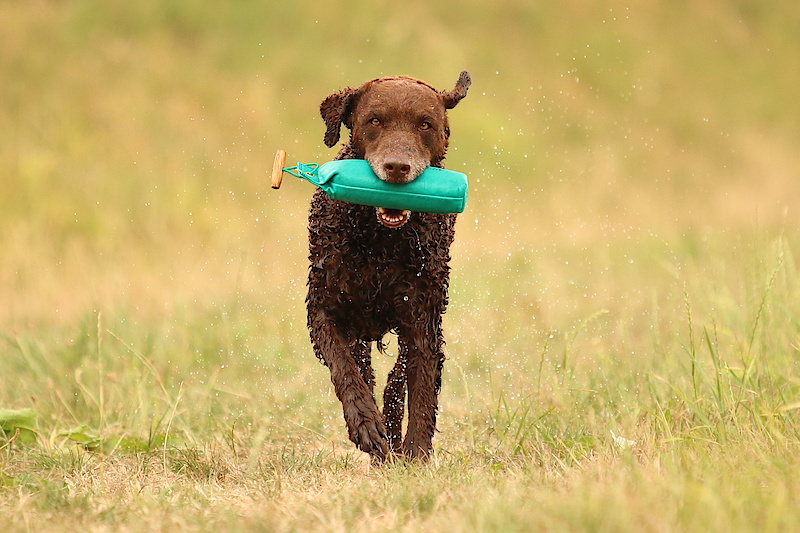 The second mark on the upper sit bank, she got it quickly, though it wasn´t the easiest one, due to a level from water to bank, up 3 meters and then again up 2 meters to next level.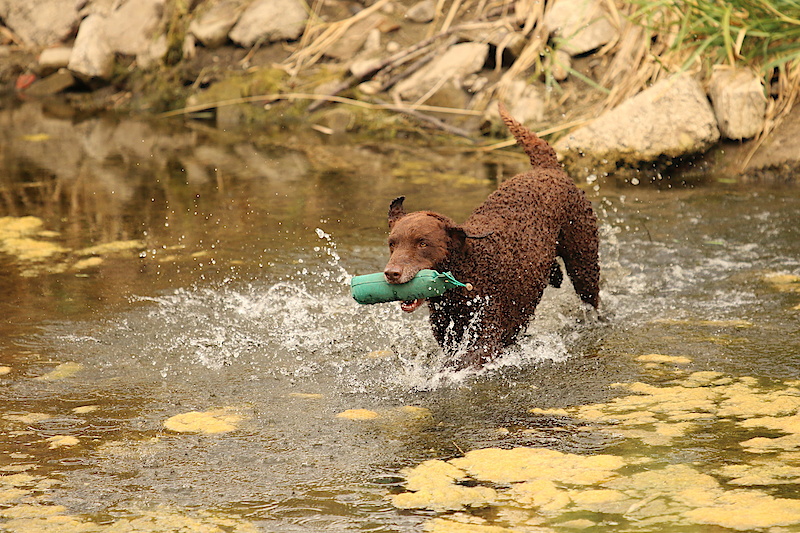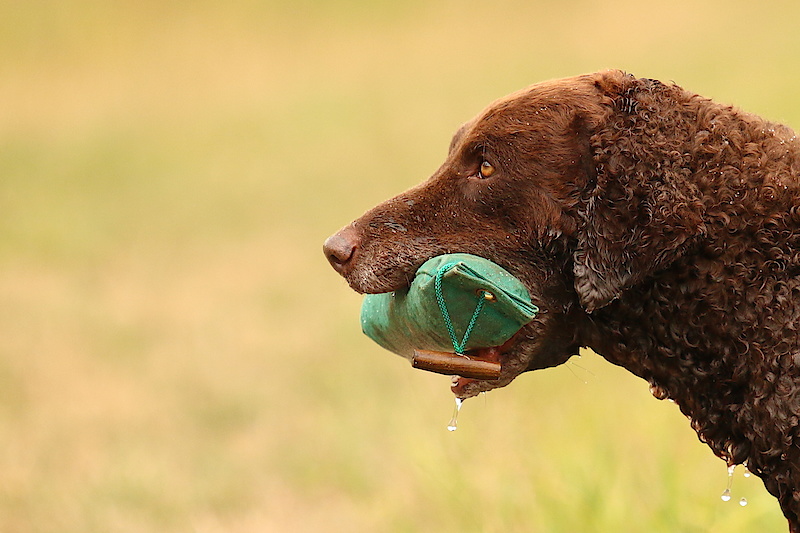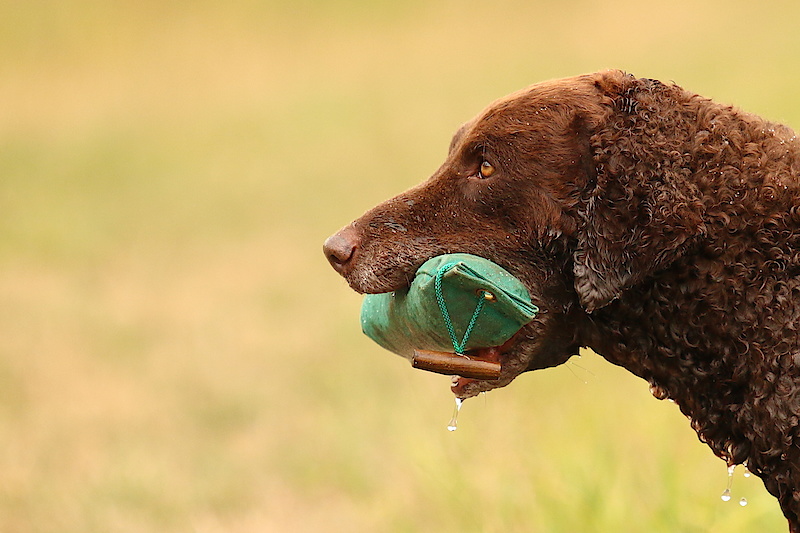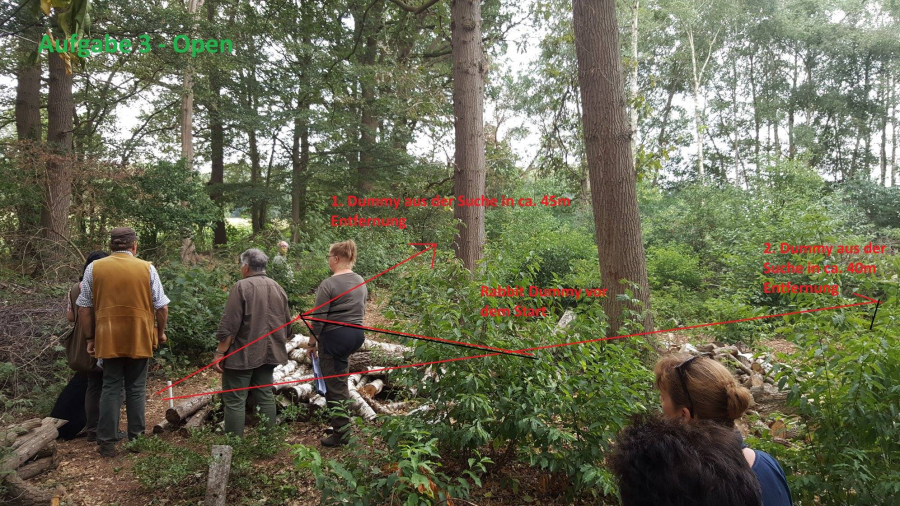 We only had one post left, post 2
Waiting line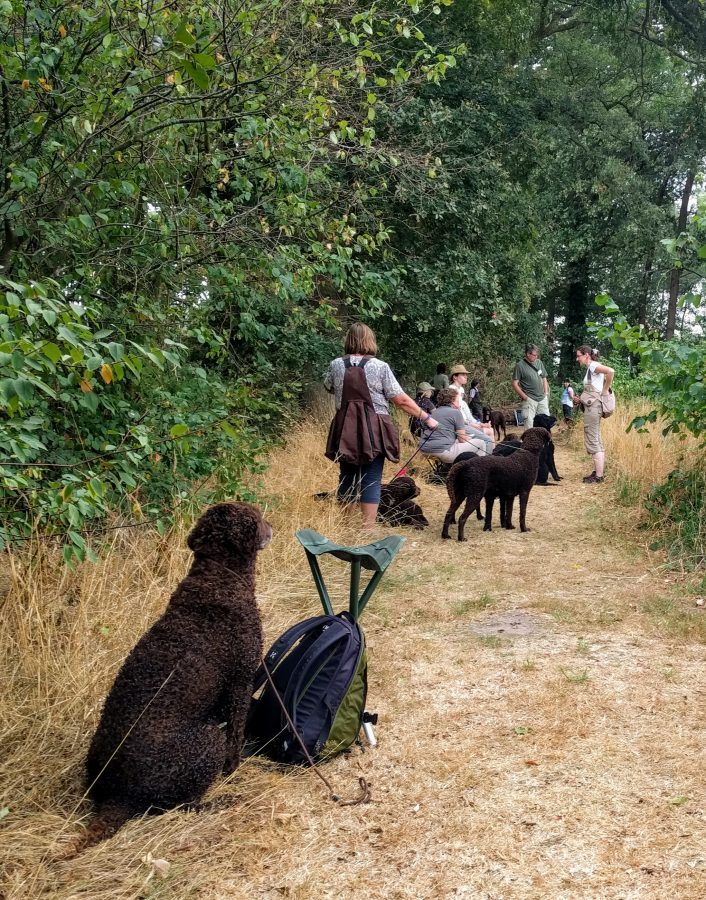 I had my hopes high, but I know, that it isn´t over before the last retrieval is in my hand!
For open class, we was in the woods at a little path. A rabbit dummy was dragged at a distance of 4 meters in front of the curly, disappearing to the left. Then I was allowed to send her out into the bushes, knowing that 2 dummies were placed some where. The first she found rather quickly, the I send her over a stack of wood to the right and I know she was in the area, but didn´t seem to get any sense of the dummy. I send her out again, I know she was working at finding it, but the judge told me to call her back.
So she did´t get to the finale, but I was happy with her showing will to please and work as an experienced curly work. However you always need a little luck on the day ?
The judges had 4 dogs participated in the finale. Fortunately, Ellisiv and Kivi was on, and was just outside the medals. Really well done. Loa became number 7 out of 18 open class curlies.
Jennifer Hirsch with Stagfield Gamekeepers Atticus won open class, and the equipage did a really great job! So thrilled so see a nine year old curly work with skills and enthusiasm !
In the evening we had the farewell dinner and it was announced that Sweden will host the next curly world seminar in 2022. I look forward to that.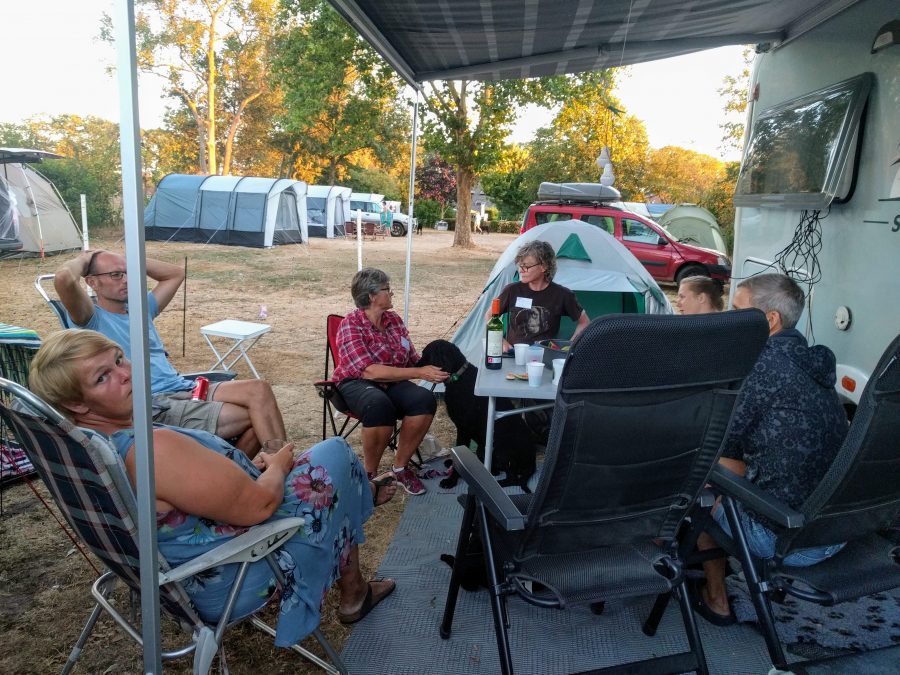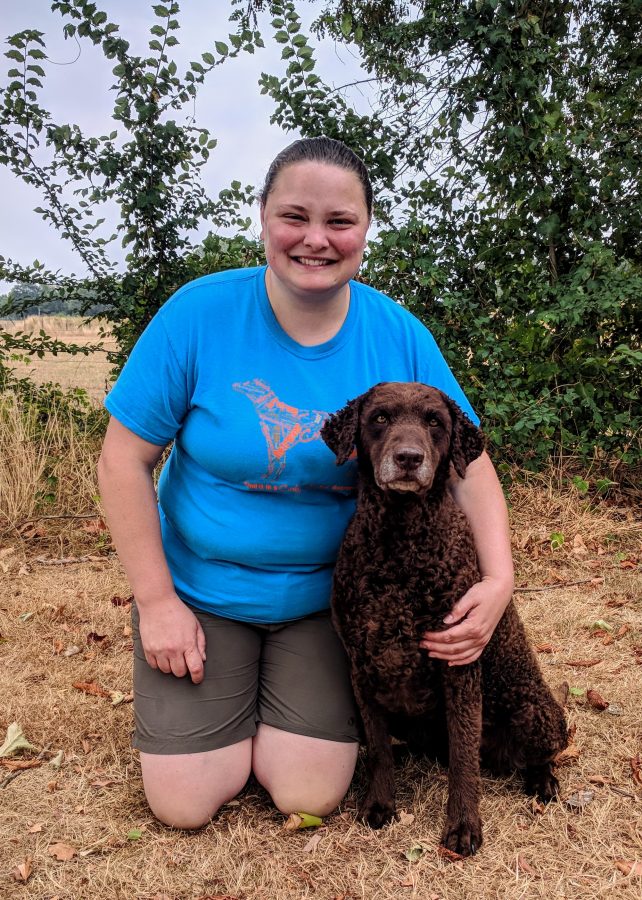 Thanks to Ellisiv, Anja, Ingelise for very good company and thanks to Ann, Knud, Sarah, Aubrey, Ruth and many others to visit the Nordic camp. We enjoyed all talk about our common interest.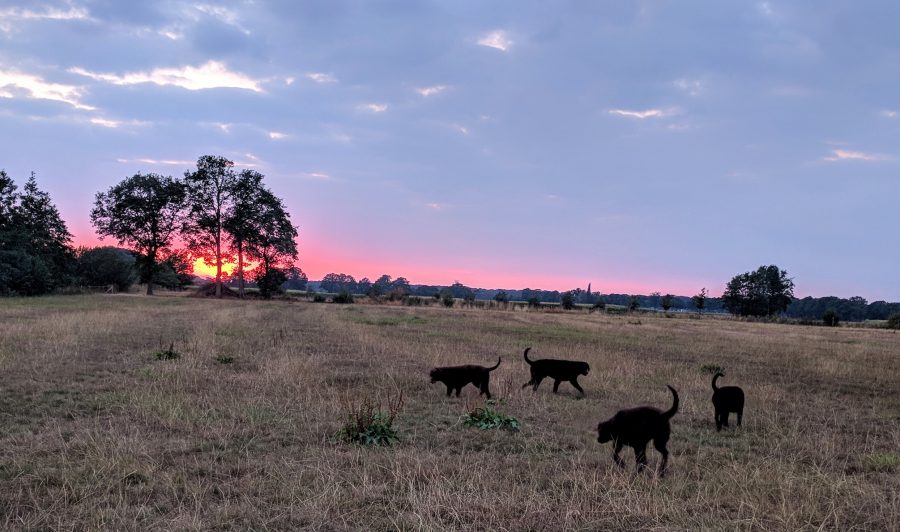 Waltakke at sunset.
Back at home, Ellisiv and I had a couple of days of vacation – and of course training our curlies. I have a couple of videos, soon ready for upload.
Thanks to all of you that made Photos!