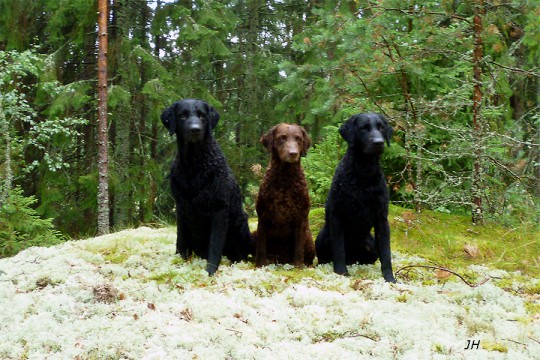 Ingelise Koed and I decided during a weekend training with our curlies in January 2014 that we would go to the 5th. Curly World Seminar event that took place in Turku in the beginning of August. We agreed that Todo, MAGRISS MAN IN THE MIRROR was to enter in Working class, and his young son Gatling, KC TAI TOKERAU would go to Junior class. I decided not to enter my bitch, Loa, Curly Cottage Loa, to the show, which I regretted during my stay! However all three curlies was entered to the Field Qualification test and the Unofficial Working test. We really looked forward to go to Finland. It was Ingelises first CWS, I have been to Mölle 2006 with Xingu, and still remembered the feelings being around so many beautiful curlies.
We decided to go by car and ferries, and take some more days of vacation being there. We rented a little cabin around Sauvo, about 40 km from Tuola, where the Curly World Seminar took place and where the majority of the participants stayed.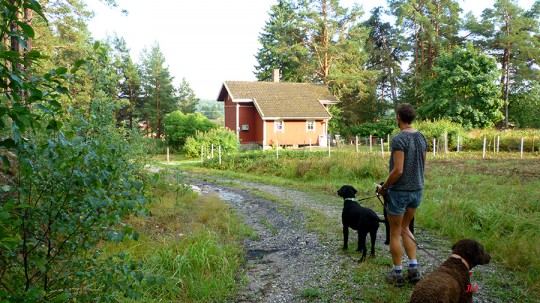 Ingelise and I arrived a couple of days before start of the event, spending time swimming in the lakes with the curlies, walking in the lovely surroundings where we lived, just in the middle of "fisherman and hunters paradise".
Mornings wakes up arranged by a pair of cranes looking for food at the nearby meadow, the male bird singing very loud with his kind of peacock song. Sitting on the compost toilet, I could see them and certainly hear him! 
We walked the curlies in the leash while roe deer walked just outside the cabin. During dusk, we walked along the huge forrest that surrounded us, looking for moose. And we saw more!! 6 of them, one cow with two calves – what an experience!!
Big birds of prey hanging in the sky during daytime – my Good, this is so close to paradise, I can get!
On Saturday, the CWS started with an informal afternoon saying hello to new and old curly friends and of course, participating in the funny Finnish tradition the 100meter run for curlies and the two legged friends. Loa, who actually is quite fast had to put up with me, so she caught me passing the 80 meter and then slowed down 😉 so she didn´t get any good time. Never mind we had a lot of fun and hurrah for the American supporters, they did what they could to have some fun of it . It was so nice meeting the Swedish team too, we know them, and of course Loas breeder Lena Gottfriddsson.
Then the official welcome took place, Ingelise and I returned to the cabin letting the curlies having a relaxing evening before the show the day after.
Sunday on the great show day it was almost warmer being around 28 – 30 degrees – and the days after on the FQT and WT days we passed 30 degrees, so hot for the dogs to work in that kind of temperature and we brought a lot of cold water to them all the time.
On Sunday on the specialty, show Mrs. Kathryn Cowsert, USA judged over 100 curlies!! So many beautiful curlies – WAAUU.
I met Ellisiv, who have Lara, Loas sister, and it was so good to talk to her again. We always have som interesting discussions about training our curlies. Unfortunately Ellisiv didn´t bring Lara, she has just had a litter, sired by Rhino, and stayed in Norway.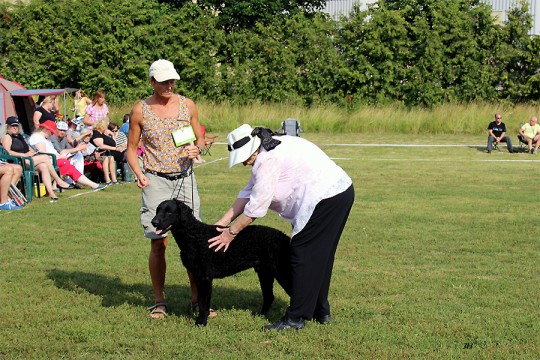 Ingelise showed Gatling in the junior ring, and he got a "very good" and was 4.v in his class.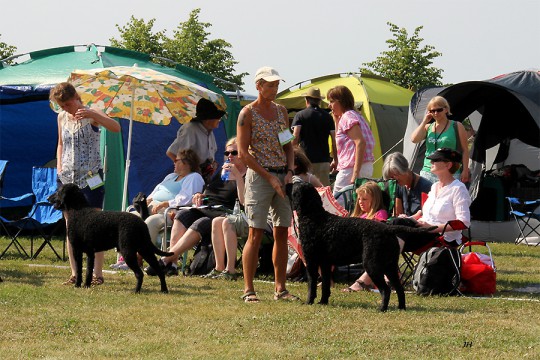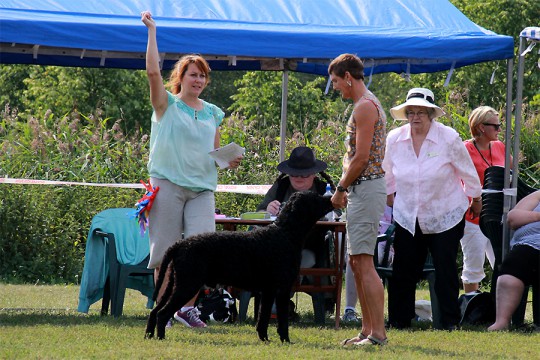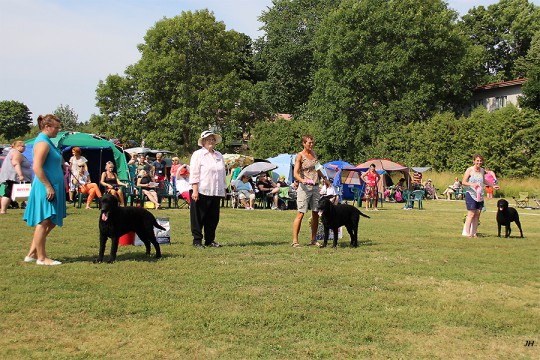 Todo entered the working dog class and did fantastic earned an "exc" and 2v in his class. There were so many beautiful dogs and bitches, that I cannot mention all of them. BOS was Roughyeds Poseidon, Bruicer, owned by Hannie Warendorf, Holland and Caballus Electric Slam, owned by Tiina Illukka, Finland was BOB.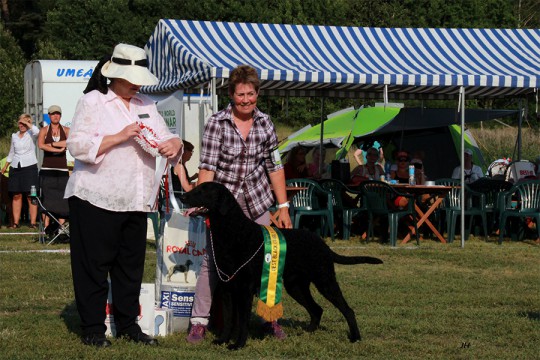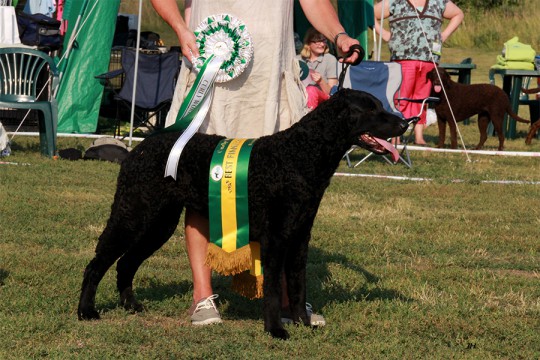 Next morning some of the presentations from representatives from most of the participating countries gave their presentations. Ingelise gave her presentation on behalf of the Danish Curly Committee.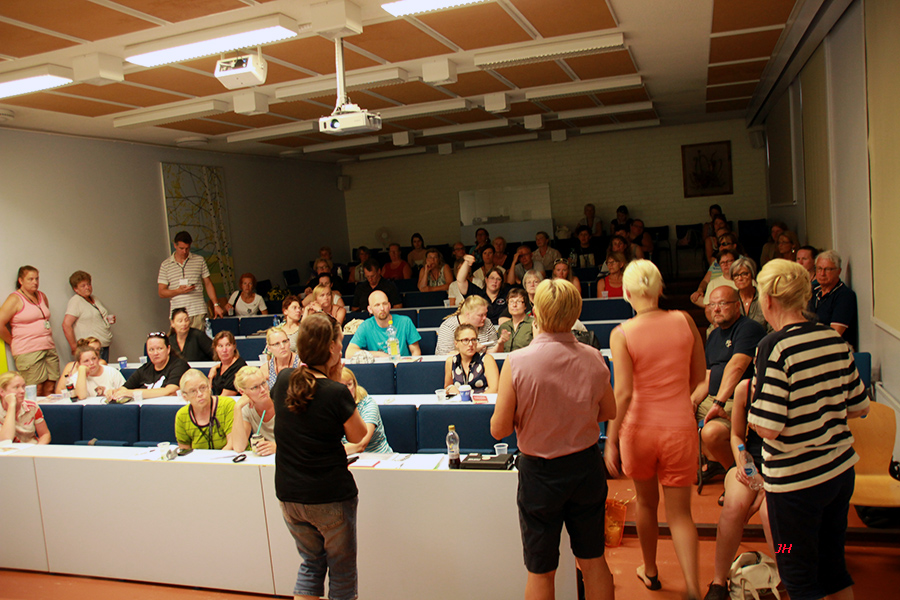 We had to leave to be in Parrainen for the Field Qualification test. We need not be in a rush, but we didn´t know at that time.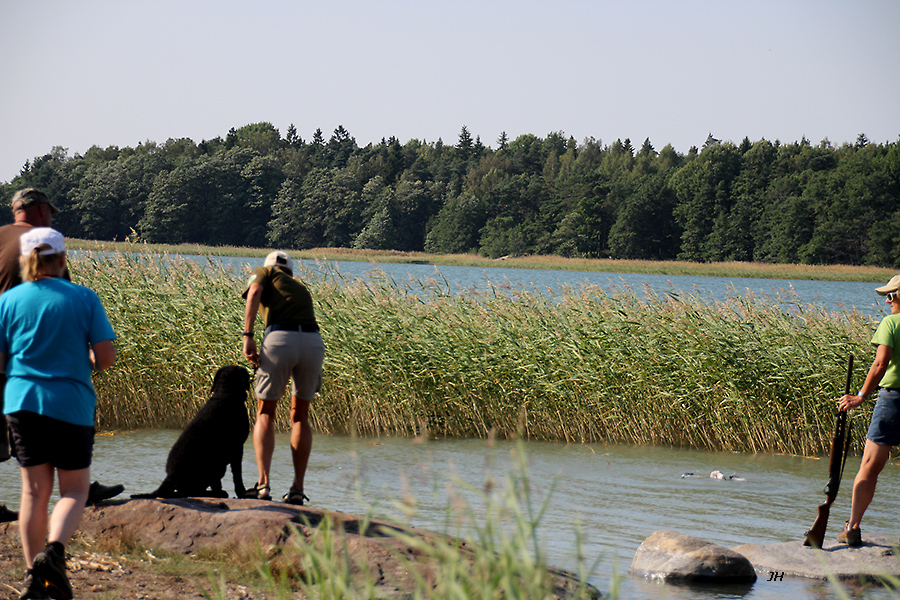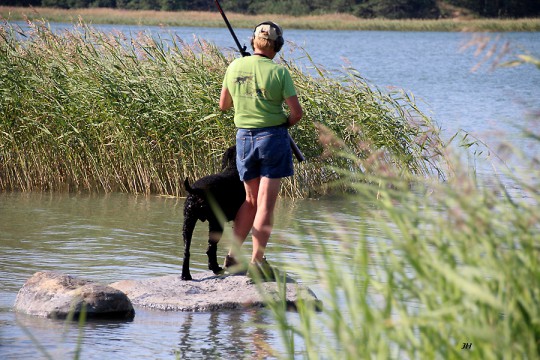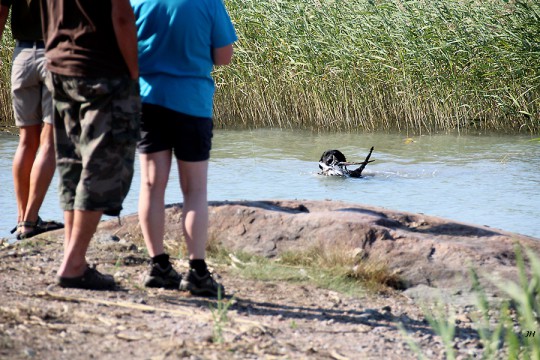 Gatling did very well on the seagulls in the water. He got them both, and in the landmark on craw, he got it too.I guess the heat got to him when he was send to search, he didn´t find all the birds he was supposed to. However I think, he showed his potentials – he is just a young boy of 14 month!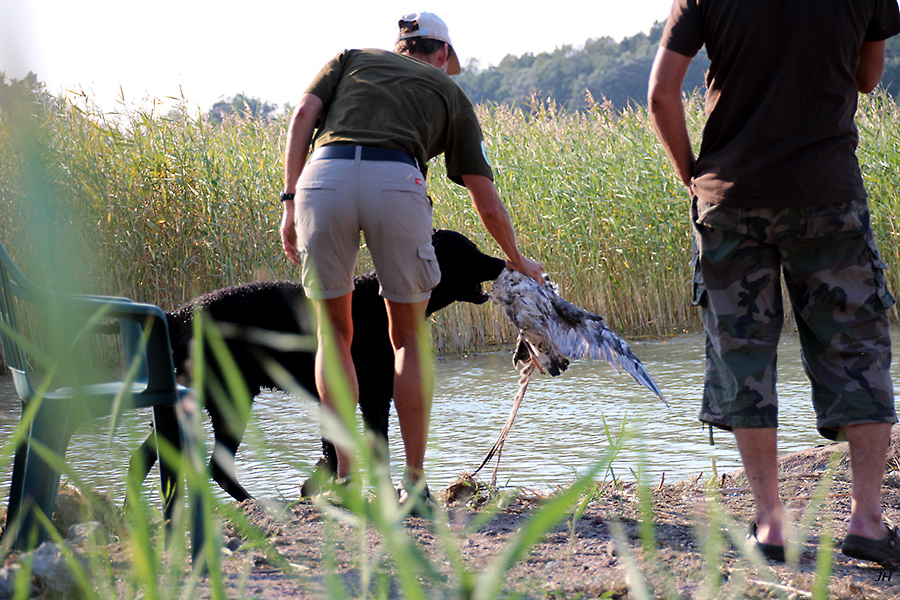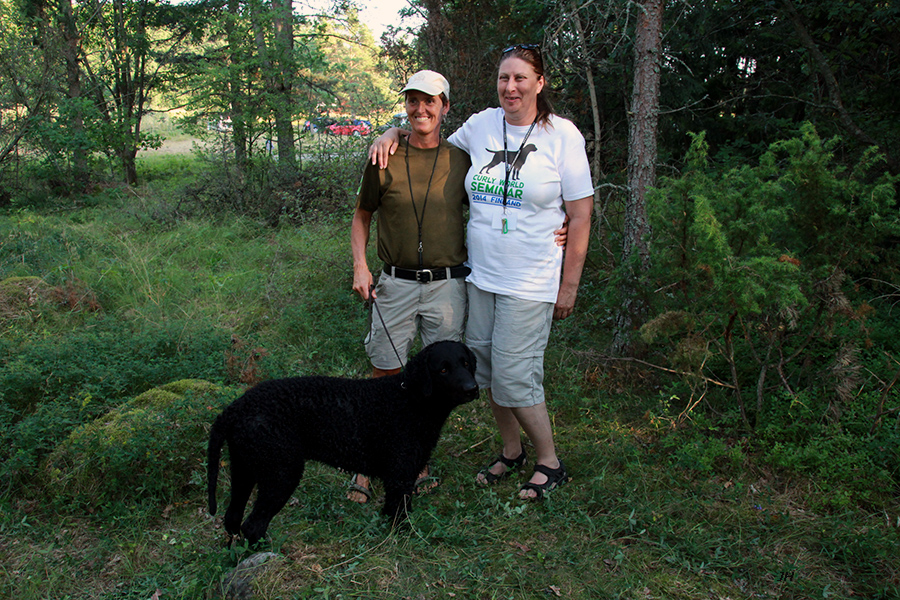 Todo was not up to his usual test mood. He had trouble with the birds in the search. I think that the heat got to him.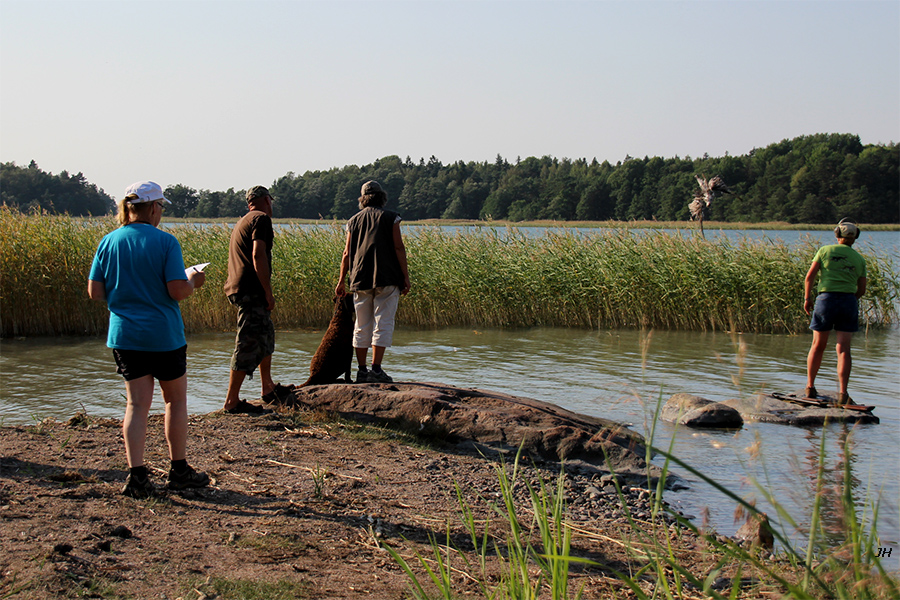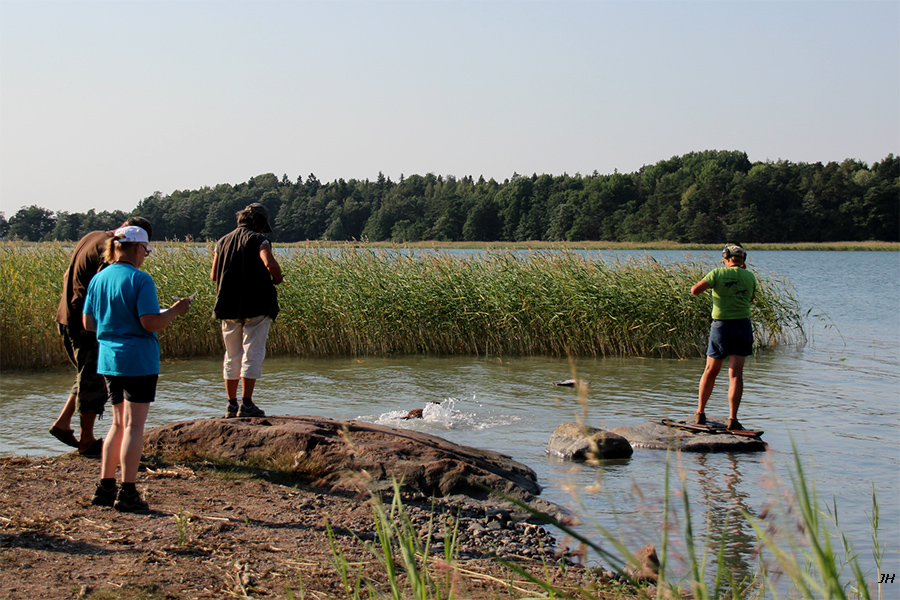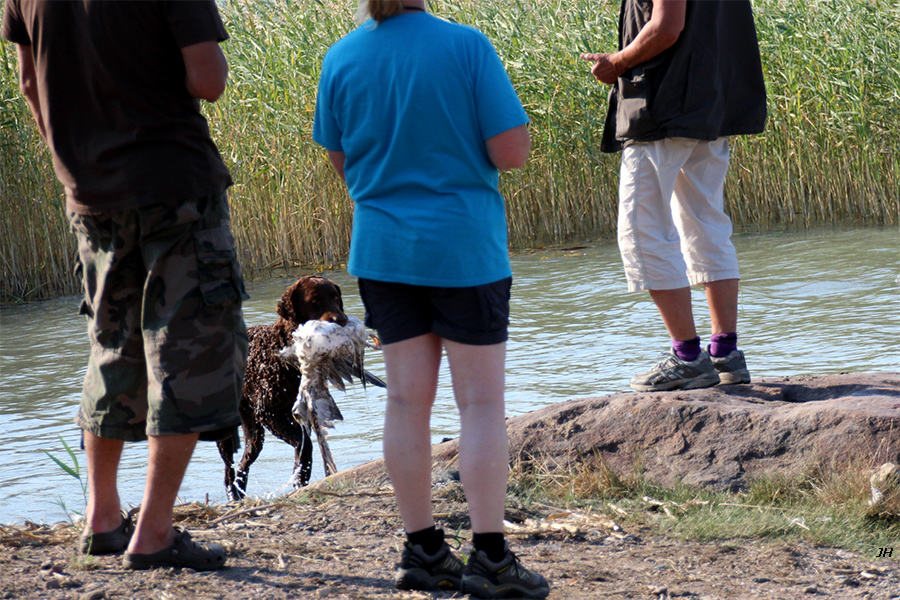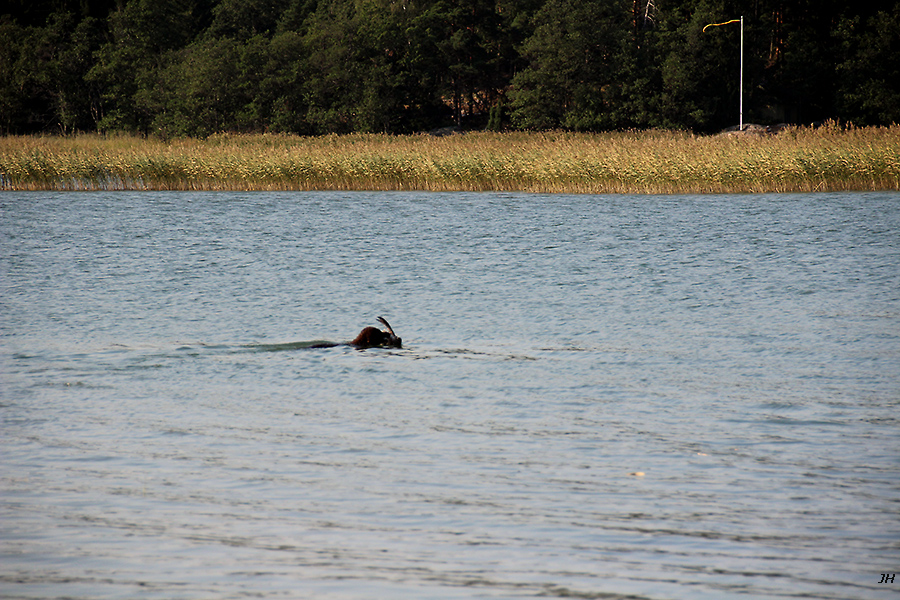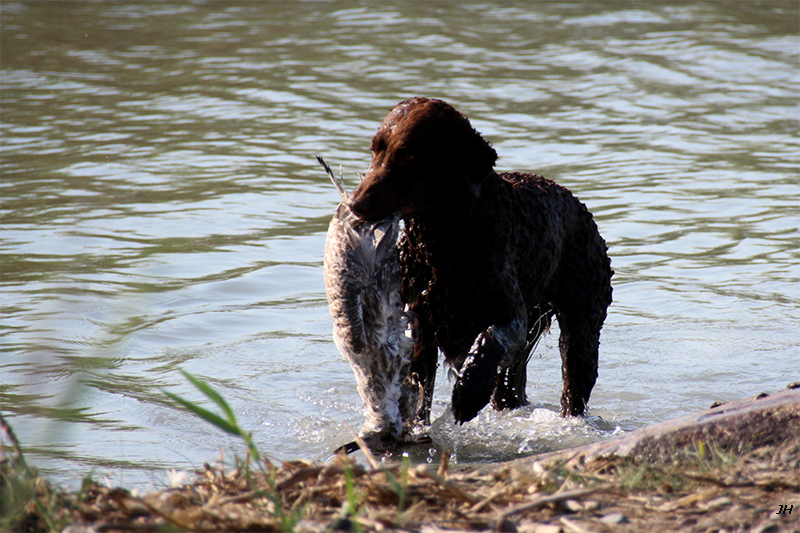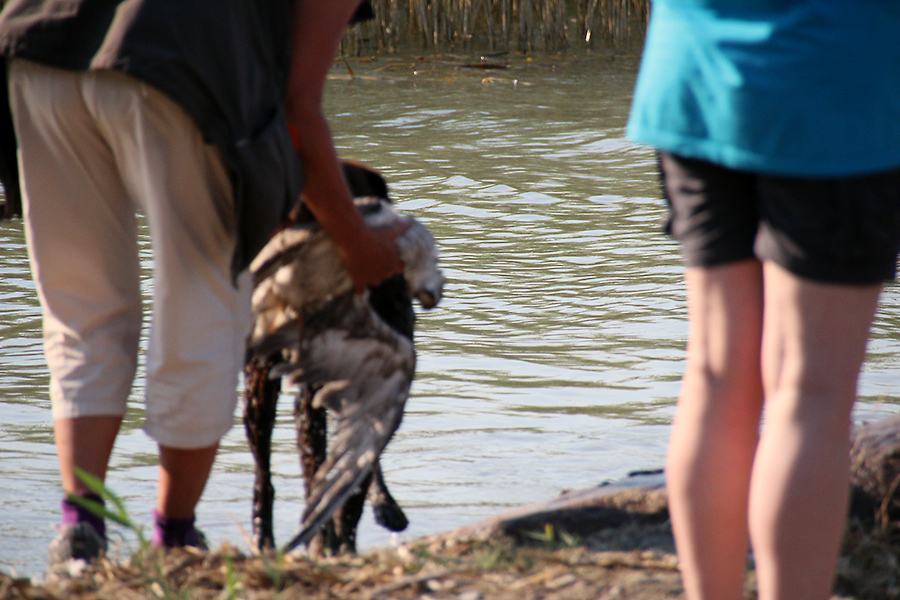 Then it was Loas turn. More of the curlies had crushed the birds in the search area, I started to get nervous – but I should not have been. Loa picked up the seagulls on the water, had no problems retrieving from the cliffs, which a Danish curly is not used to do.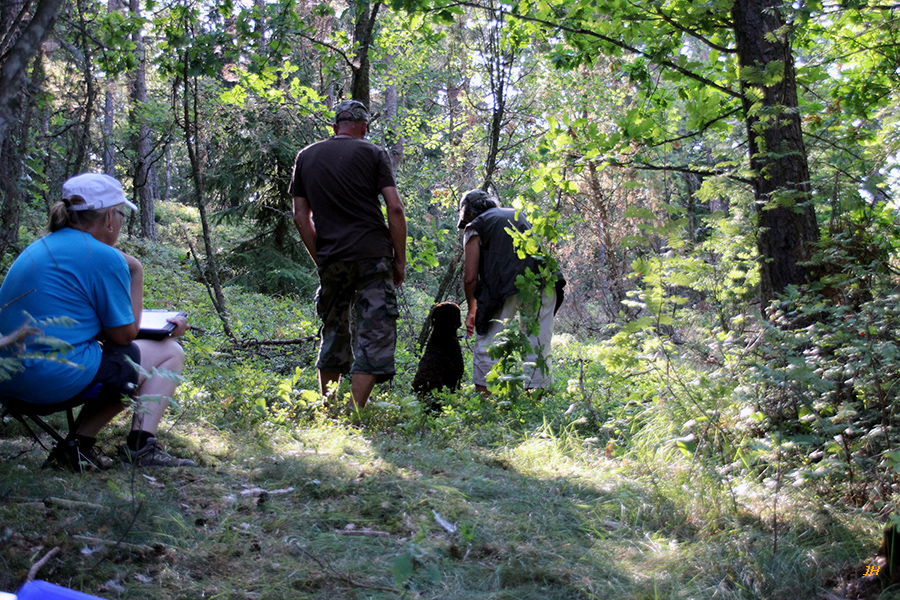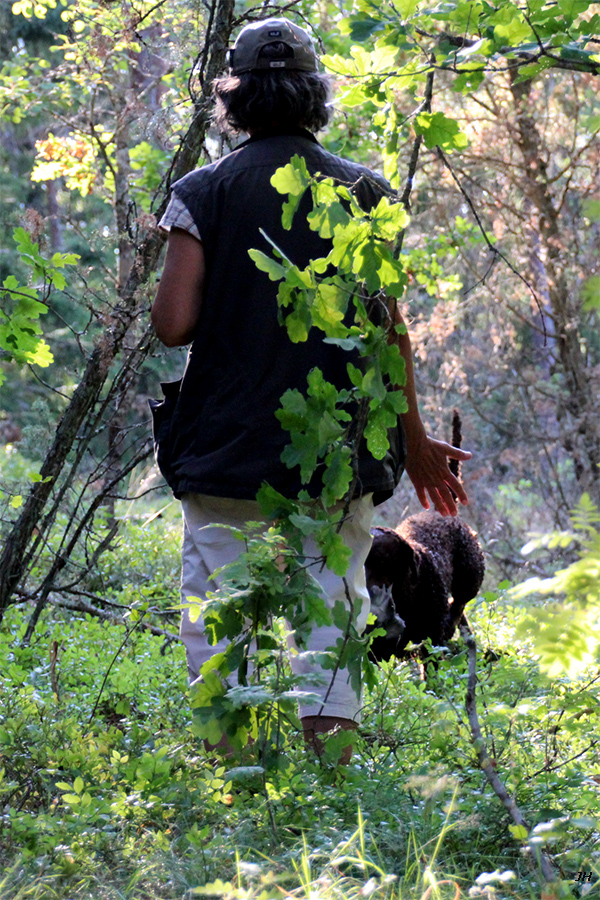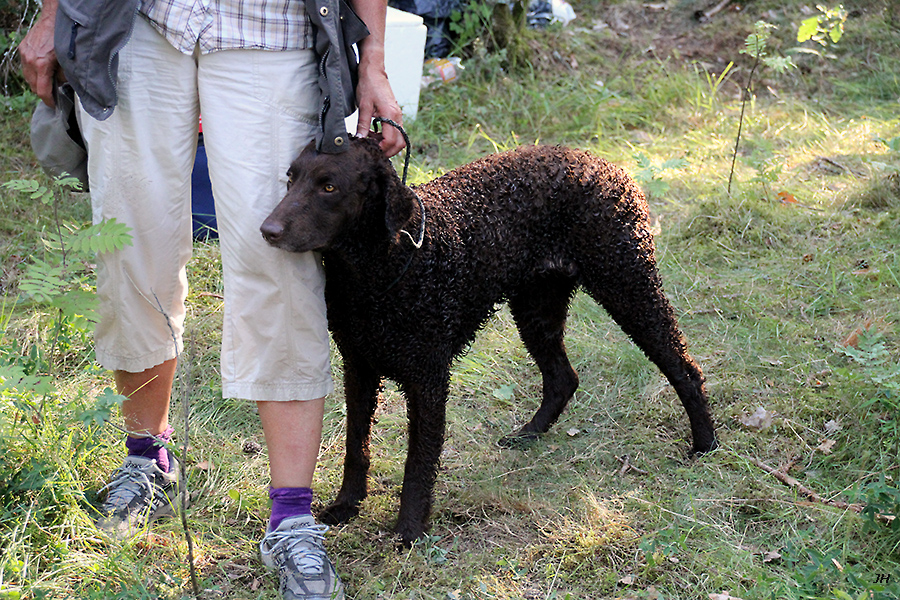 The landmark went well, and she retrieved the rest of the birds in the area. I couldn´t actually see what she was doing because of the rather bushy and hilly area, just send her in different directions, but the judge was happy with her job – and suddenly I was ready for the final rabbit track. Lena Loas breeder gave me a big hug, she were happy with Loas work.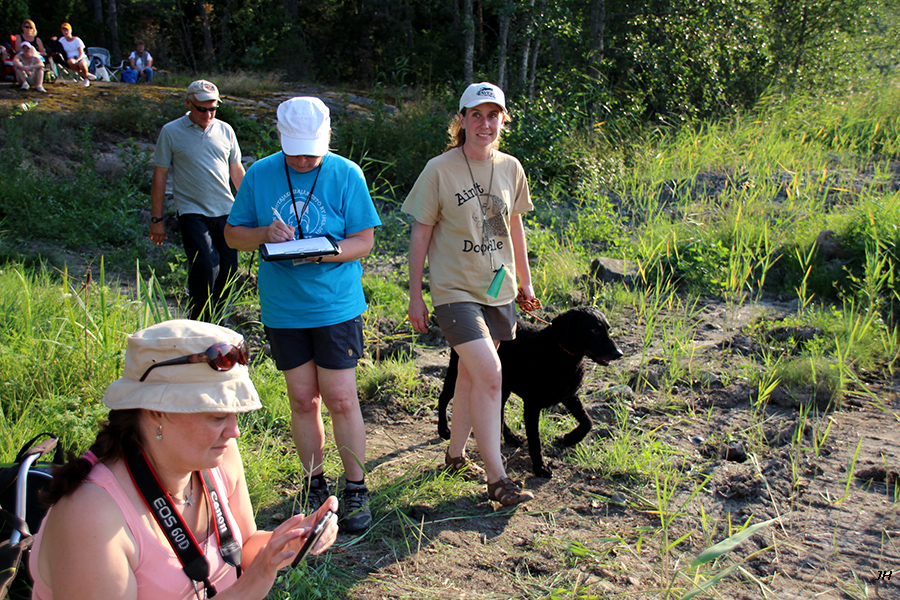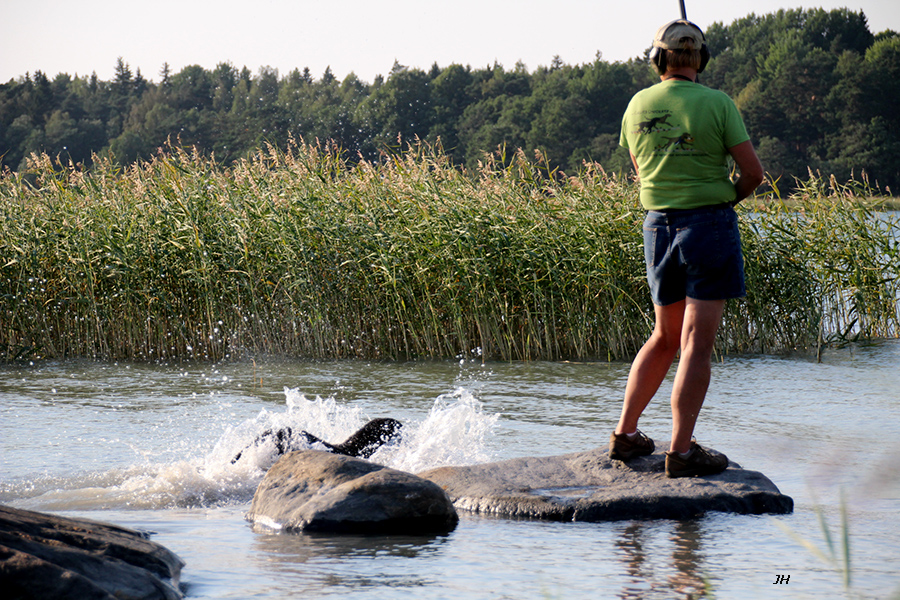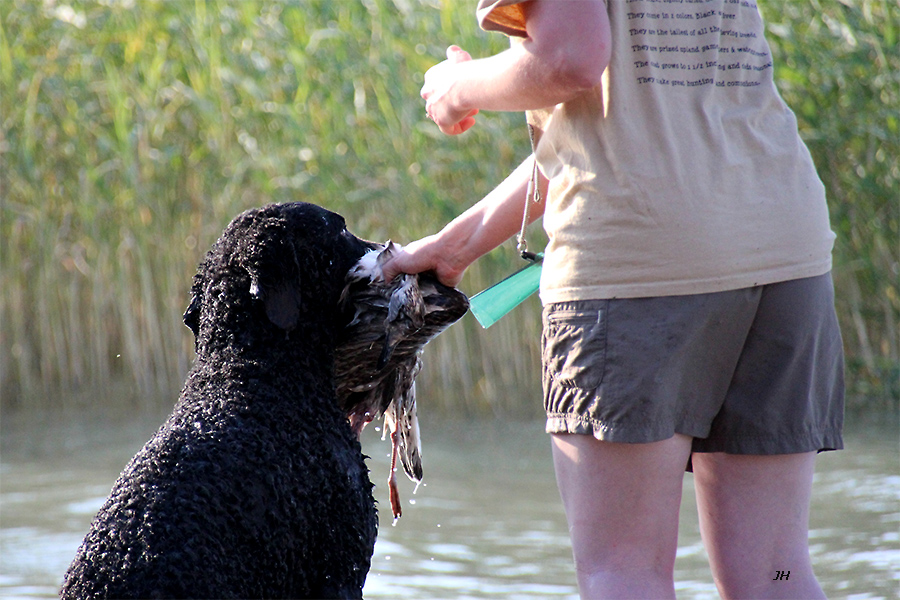 Prior to that, it was great to watch Rhino work. He had no trouble finding birds. He went directly for them working with style. He handled everything carefully.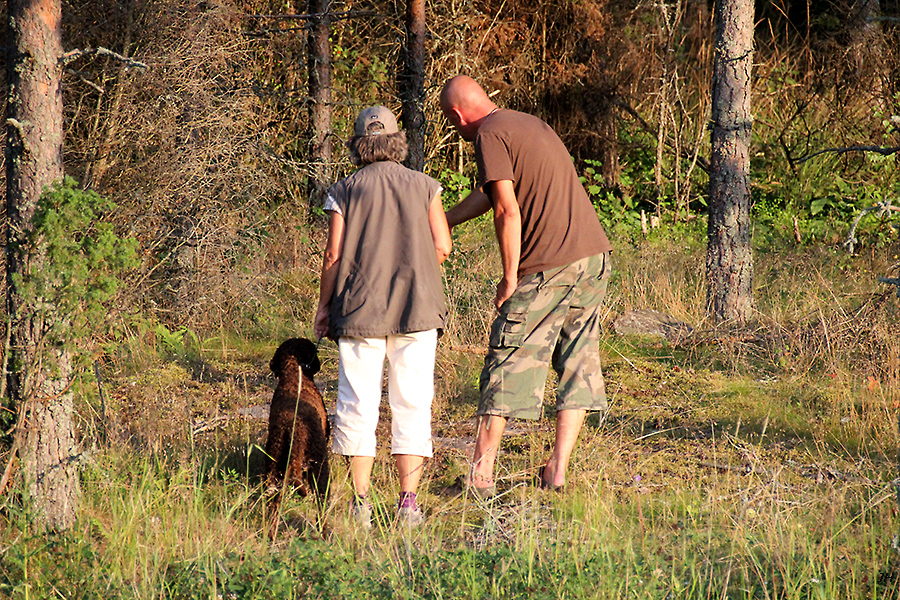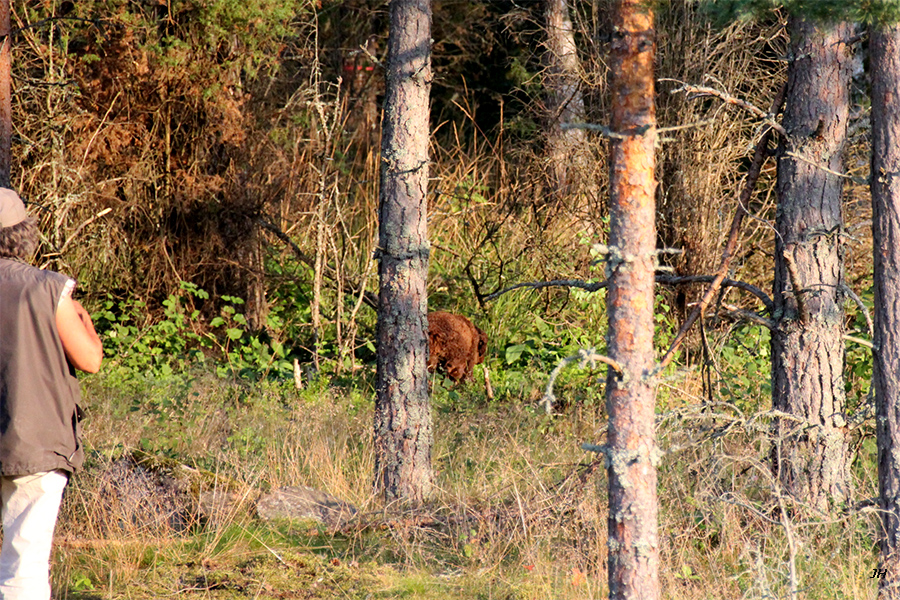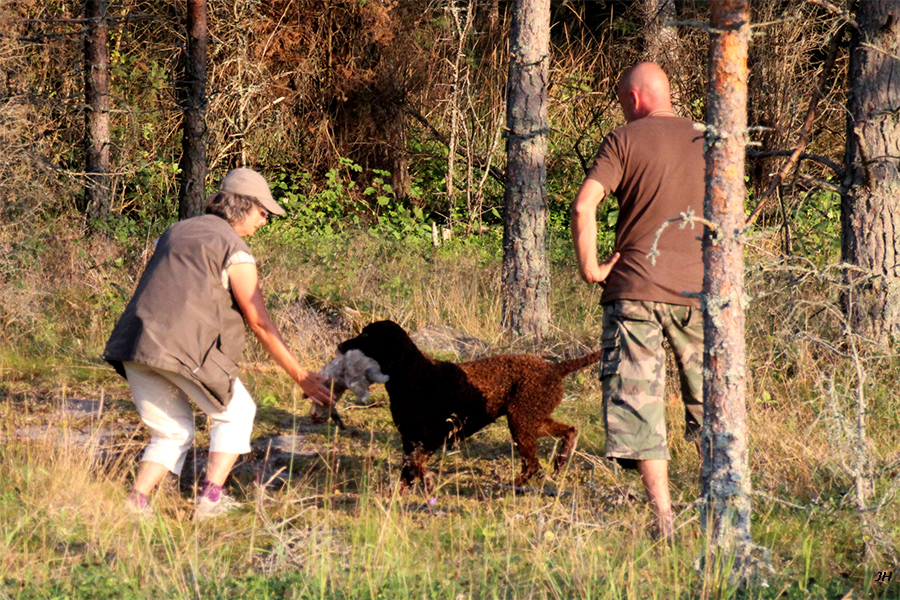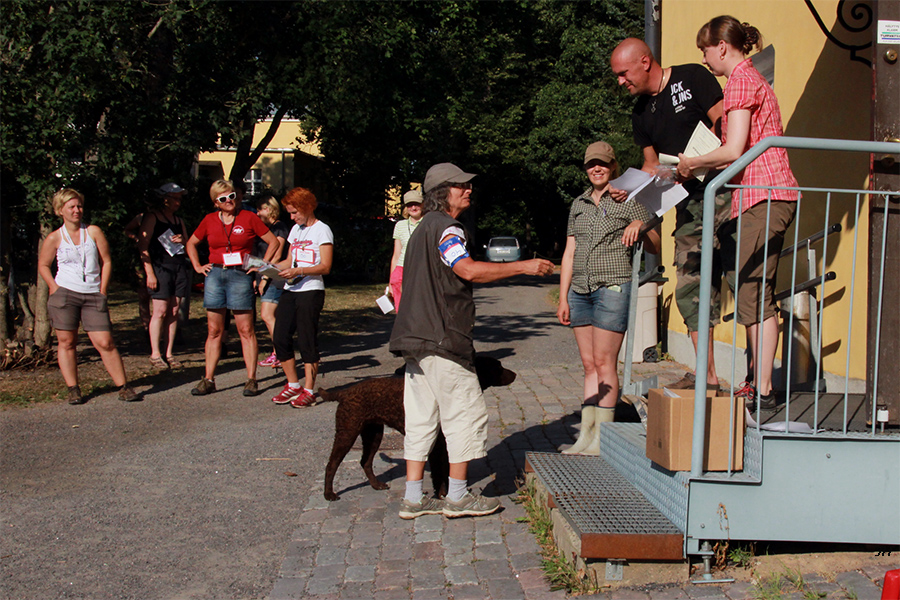 Then finally, the rabbit search. The Judge pointed out the tracking start, and Loa just walked the track. Judge noticed: She knows exactly what she is doing. Then I told him of her Swedish and Norweigan blood tracking title. Although she normally tracks deer, she knew immediately what to do. Loa handed me the rabbit, and I praised my little brown girl. She had passed the test  5 out of 14 curlies passed the test on that day, it was so nice to see all curlies doing what they are supposed to do.
It was very late before we reached a town, and every shop was closed, so we had to take the free way, to find a gas station to get anything to eat, knowing that the freeze in the cabin was completely empty. We manage and with a chocolate bar to go, it certainly became a party – hehe.
Next morning we went for Tuola to participate in the unofficial Working Test. 45 curlies entered. Gatling, Ingelises young boy of 14 month entered the beginners class, and Todo and Loa in open class, it was Loas first run in open class, and I didn´t exacly know what to expect in a Finnish working test.
The beginner class was different from the Danish one. We don´t have blinds in beginners class, but Gatling has just been introduced to blinds, and he actually managed that post. What a good boy!.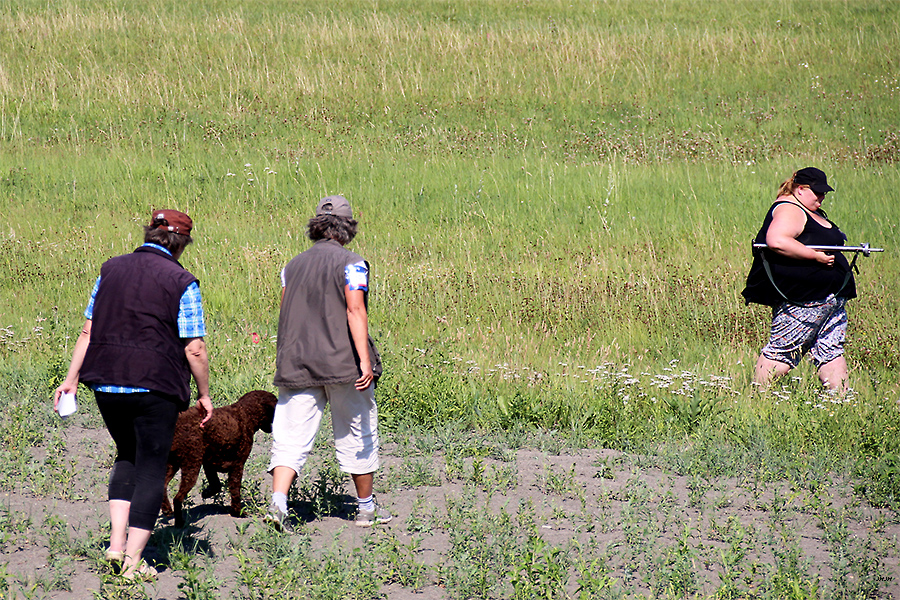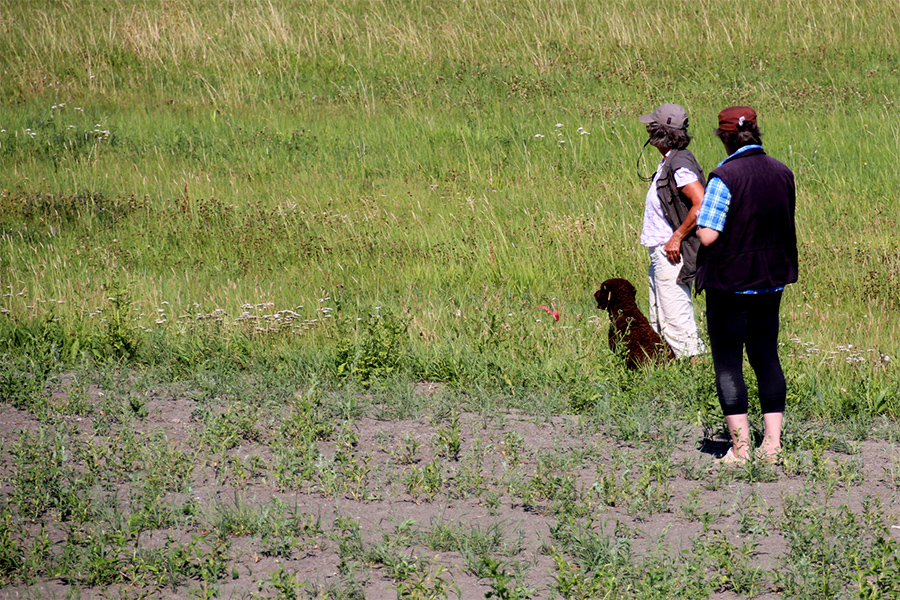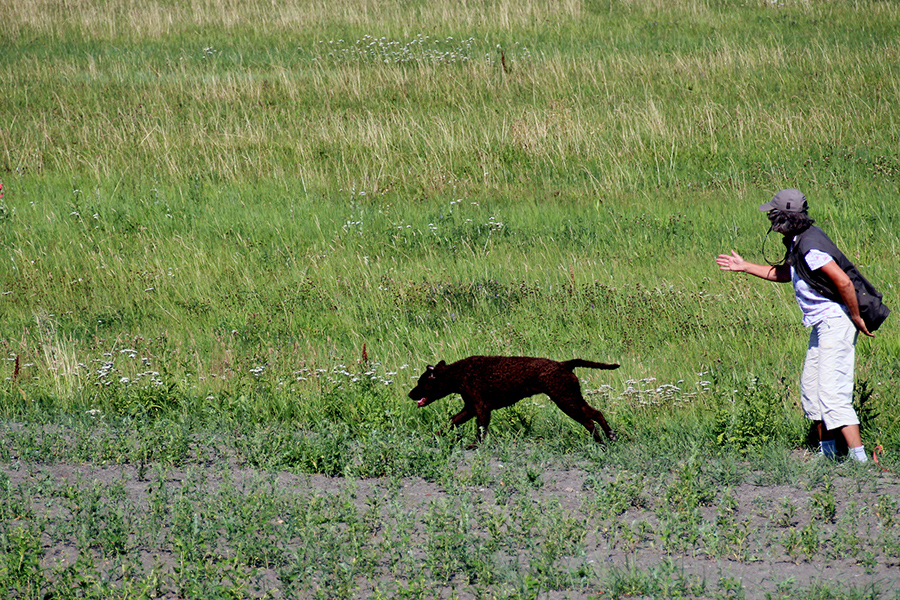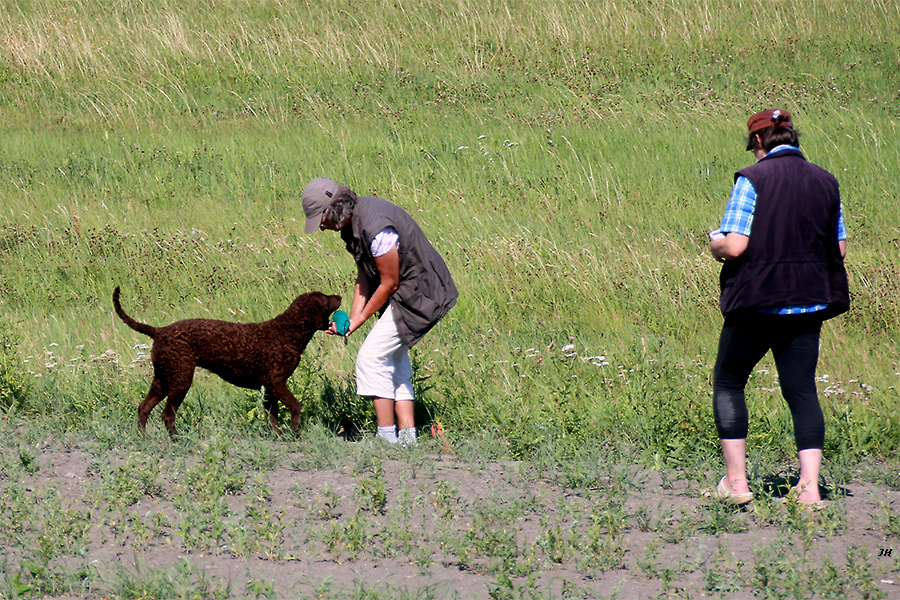 In open class, Loa had to do the same post – but with more distance to the blind. We met the judge at start and with Loa sitting without the collar; the gunman fired a shot in a distance of 25 meter ahead of us, the gun pointed to the left. Then we walked with Loa heeling to the gunman, and then turned in an angulation of 90 degrees and pointed out the direction. I had to correct her, it wasn´t her best blind, but she got it.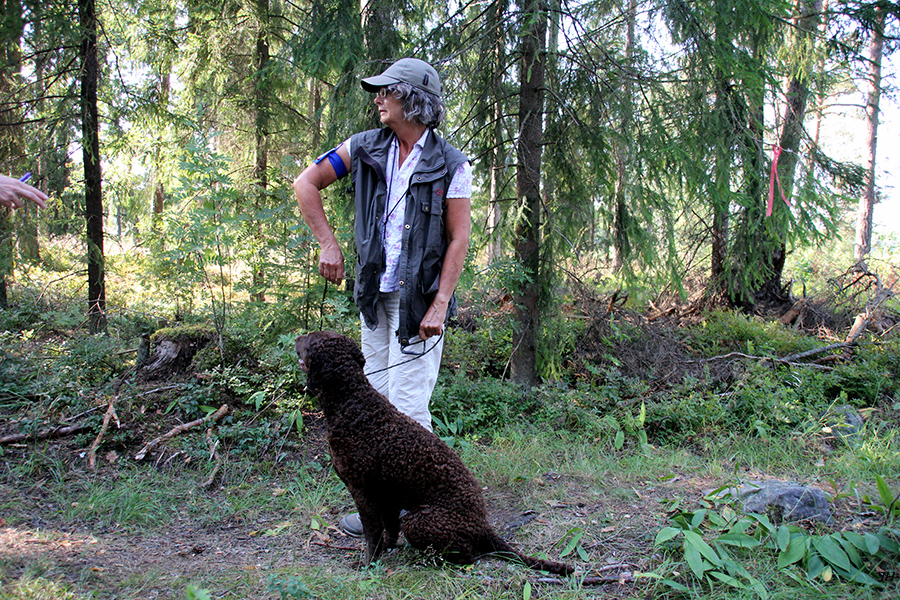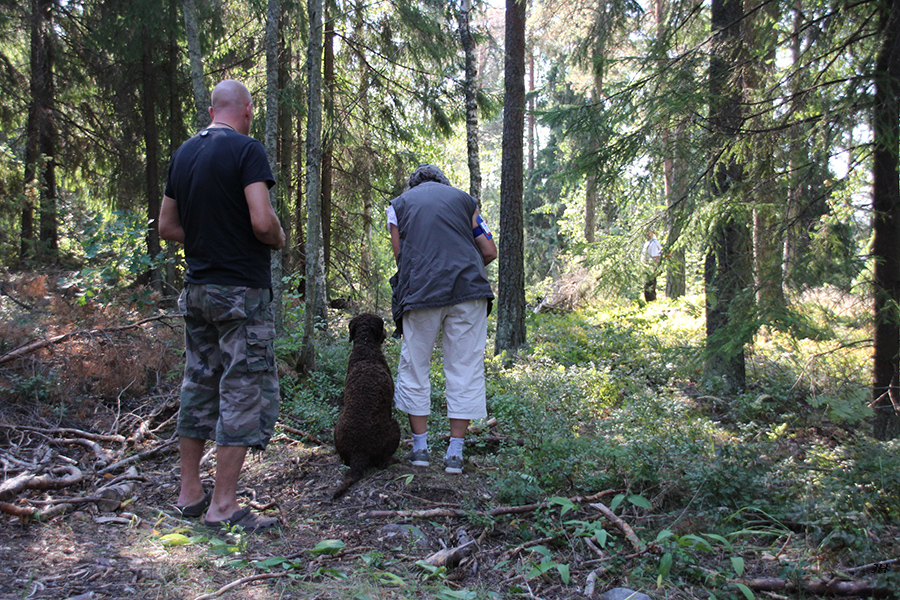 She did a mark too in another post. Not a very long one, but open class curlies had only a very short second, they were able to see the mark going down. The mark was in a very hilly area the mark went down behind the second hill. She got it.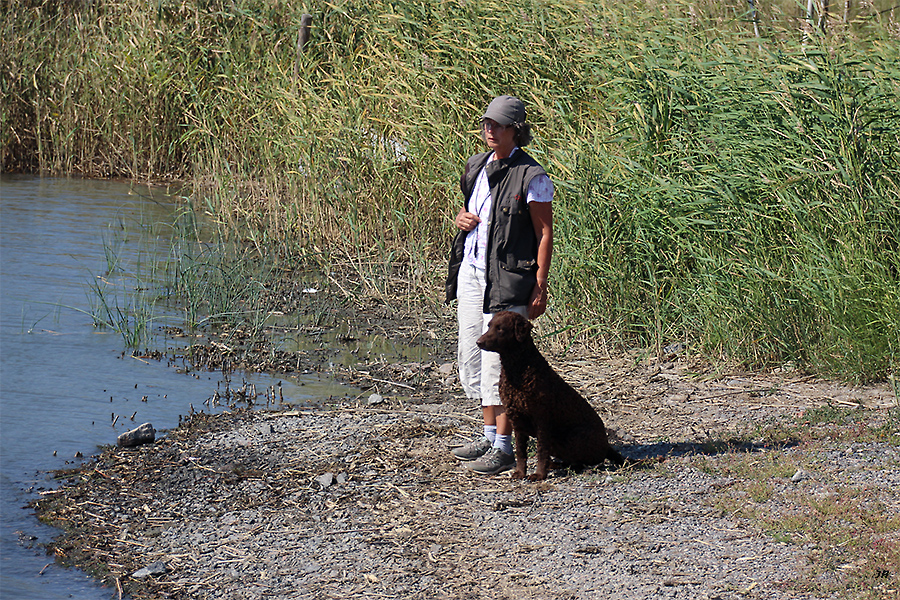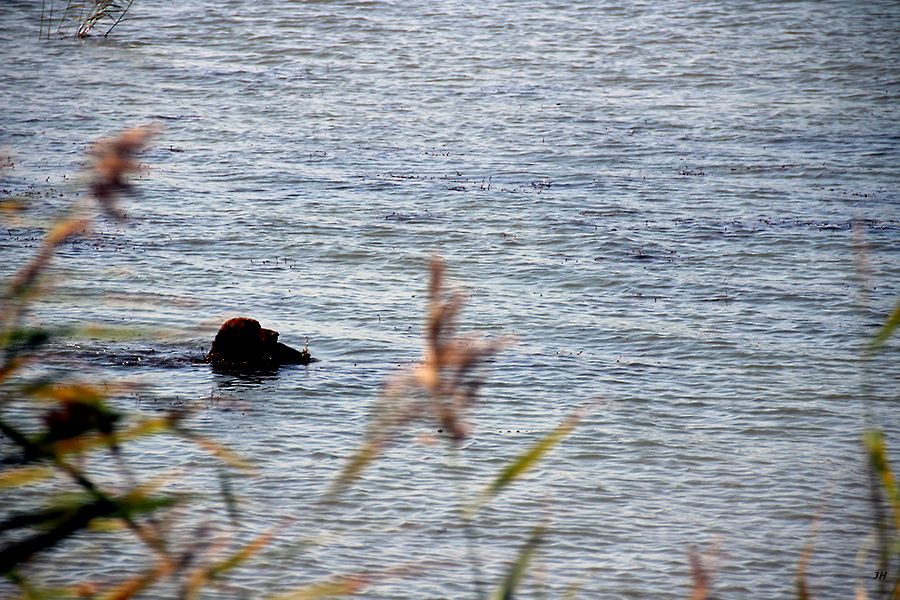 After lunch, we went to the watermark at the lake. It was a rather long mark, but what might give trouble was the sunshine just making the light on the waves glitter and make it hard for the curlies to mark. The wind made the dummy float very quickly down the stream, if the curly hesitated at the shore. Loa marked it and corrected her direction during swimming. However having handed me the dummy she went bathing, I am not sure the judge thought It being a good idea, I sure didn´t.
Jonna, Tittis lovely bitch did very well on the test. Here she is at the lake doing water mark.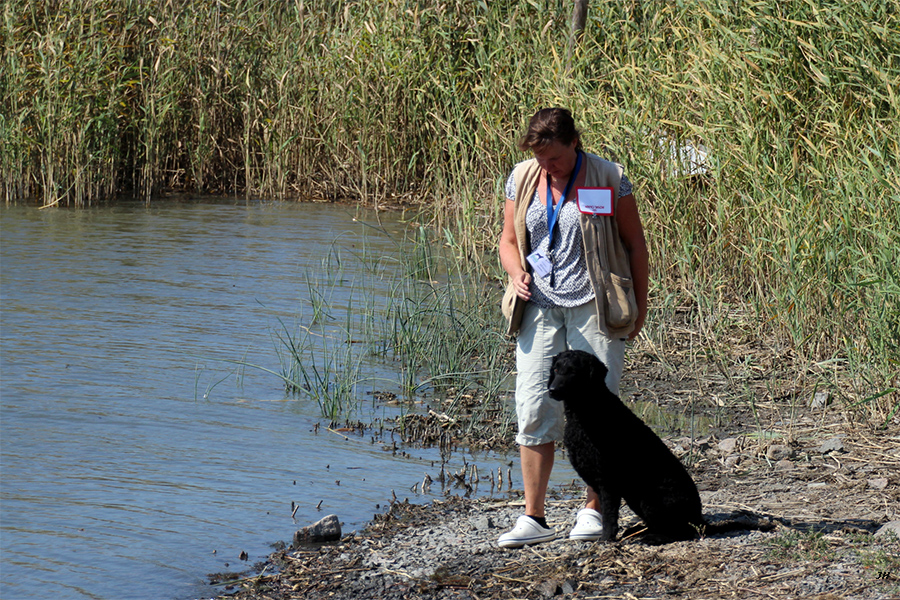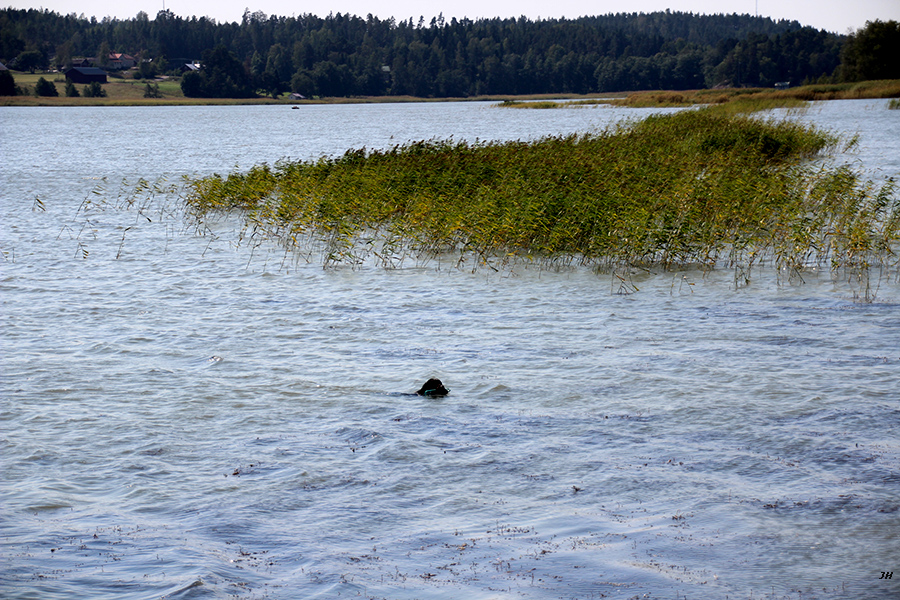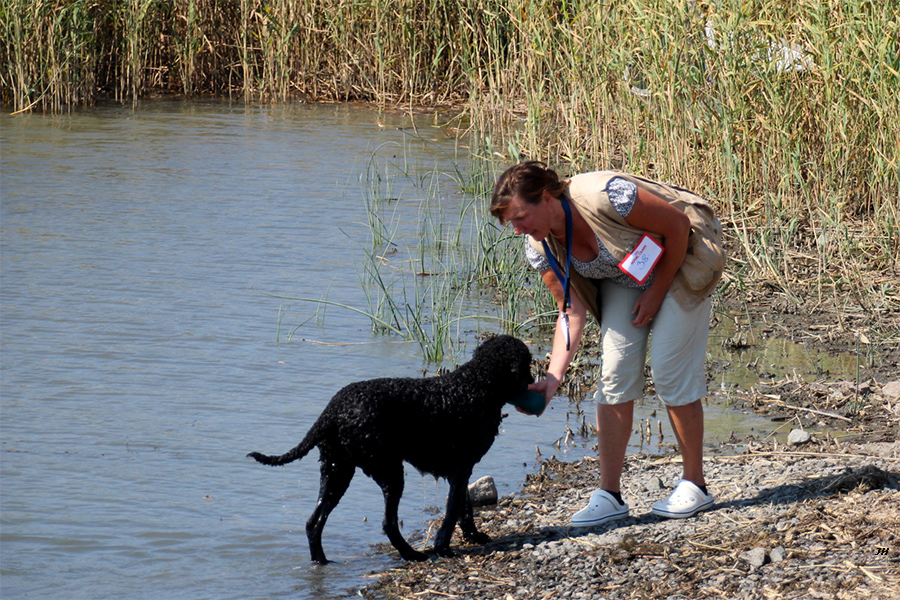 The final post, a walk up, the curly without the leash and while walking the gunman fired a short again to the right in a angulation of 90 degrees. If the curly didn´t mark it, you might take it as a blind. Loa did her heelwork very well. This has been a problem; I have been working on this summer, so I was happy for that.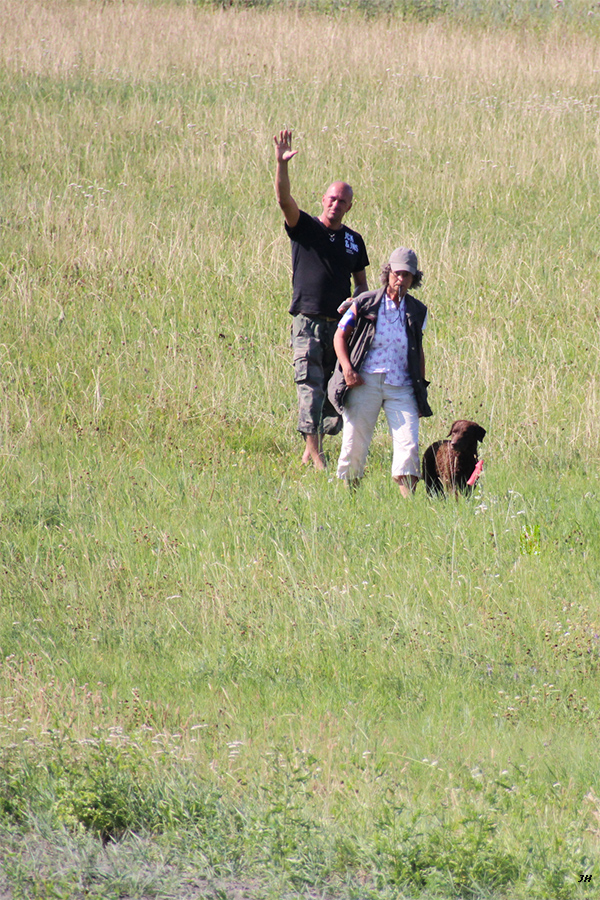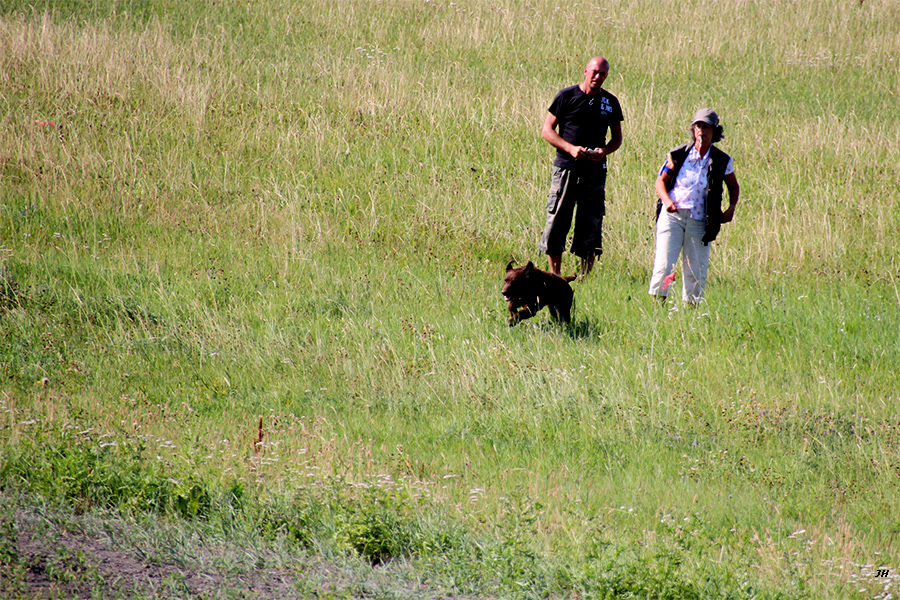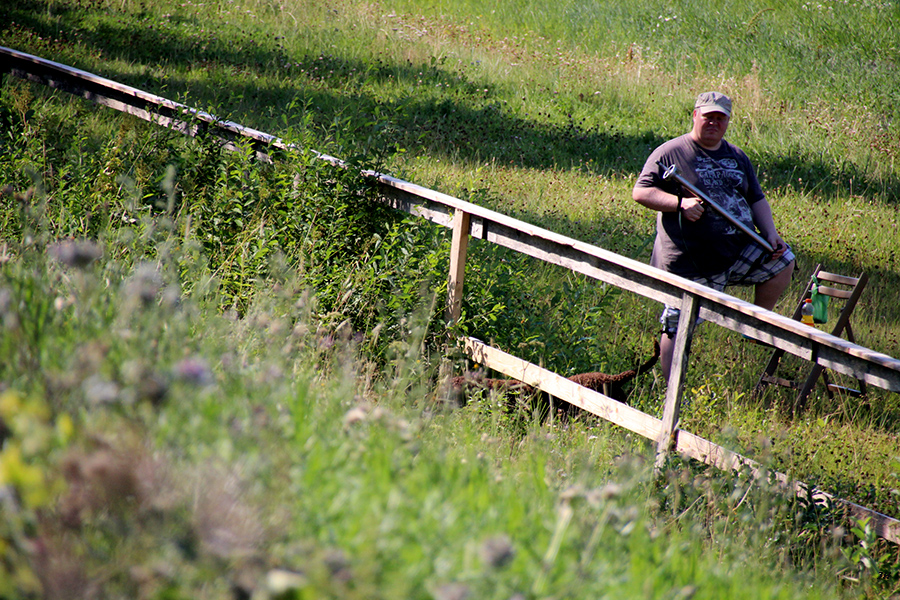 I saw Loa mark it. She sat down, the judge said, she could go for it, and I send her. She had to pass a small ditch, passing a fence, go up hill and then into some very scrubby green stuff. I wasn´t afraid she might not get is, because she is a good marker. However running only a meter or two from the mark in the scrub she turned around without the dummy – I was stunned!
I tried to direct her but she kept on circling without getting it. The judge commented: oh, she doesn´t like the nettles. Now I understood why she didn´t pick it up. No, I haven´t trained her to pick up in meter high nettles. She got an 0 on that post and didn´t pass. However, she got 14, 15, 14, 0 in the four post in open class, and I were ok with that.
Rhino won the Working test doing fine retrievals; he had a little trouble on the "nettles" too, but retrieved the dummy. I really like his way of working, he is focused, is working with Sarah – and he enjoys it!.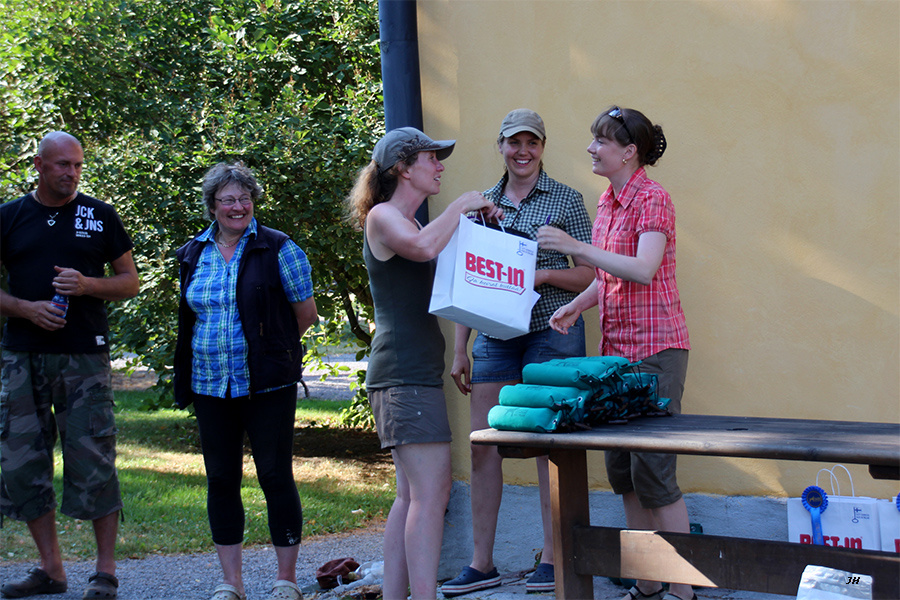 More curlies did very nice retrieves, and it was so nice, that we could see what happened during the test.
Ingelise and I relaxed during the next morning reading, sunbathing and swimming with our curlies. In the afternoon, we went to see some of the obedience competitions, very nice work too. I went to Ellisivs room to put her memory card from her camera into my computer, unfortunately I had forgotten my canon with my 300mm lens and my video camera at home – oh my goodness I blamed myself for not having checked my luggage leaving Denmark! Luckily, Ellisiv and Lena worked hard on taking photos, so thanks for that! Even Ingelises mini camera came in hand 
At the evening we went to farewell dinner and had such a fun evening at our table Finns, Ellisiv from Norway, the American team. The food was delicious and the Finnish curly people let us sing a song, at first in Finnish, then in English, which helped us understand the lyrics. It was of course a curly song and the composer were present playing at the piano. We talked about some plans in a couple of years! We said farewell to all curly friends and Ingelise and I were tourists on the two next days.
The trip home went well. We had some break during passing Sweden and enjoyed a nice swim with Todo, Gatling and Loa in the most clean but rather cold lake Vättern.
Thanks to everybody who participated in making Curly World Seminar such a successfully event!